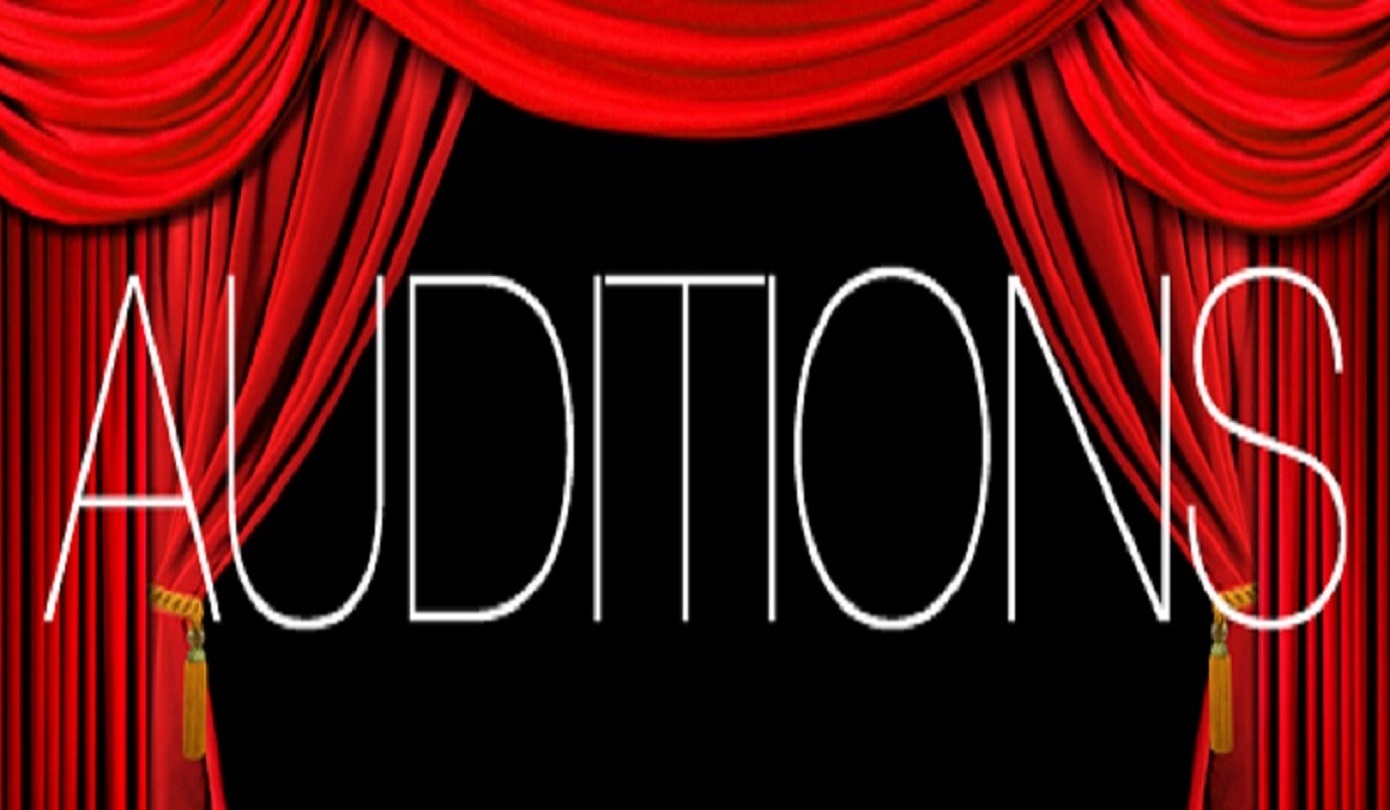 We will be holding general auditions for our spring semester productions on Monday, November 26 and Tuesday, November 27, 2018  from 6:00 PM to 10:00 PM in the Richard E. Rauh Studio Theatre located in the basement of the Cathedral of Learning.
Audition Instructions: 2018-19 spring auditions for Woyzeck, Flyin' West, Into the Woods, Antigone, and On Trial
Monday

November 26

Tuesday

November 27

Wednesday

November 28

Thursday

November 29

Friday

November 30

Sunday

December 2

General Auditions
General Auditions

Into the Woods

Callbacks

Flyin' West and

On Trial

Callbacks

Antigone and

Woyzeck

Callbacks

Recoil

Callbacks

Richard E. Rauh Studio
Richard E. Rauh Studio
Richard E. Rauh Studio
Richard E. Rauh Studio
Richard E. Rauh Studio
Richard E. Rauh Studio

6:00 - 10:00 PM

Music accompanist

available at 6:45 PM

6:00 - 10:00 PM

Music accompanist

available t 6:00 PM

6:00 - 10:00 PM

Music accompanist

available at 6:45 PM

6:00 - 8:00 PM

Flyin' West

8:00 - 10:00 PM

On Trial

6:00 - 8:00 PM

Antigone

8:00 - 10:00 PM

Woyzeck

5:00 - 8:00 PM

Recoil
What to Prepare
See Director's Notes for monologue requirements and audition specifics
Scripts are on reserve at the Hillman Library Reserves Desk under the title AUDITIONS.
How to Sign Up
Register to use the Sign-Up Genius Application - click here
Audition Time Registration Page on Sign-Up Genius - click here
Sign up for the group audition with your information
Audition Forms
Audition forms - click here
Complete the form by 12:00 PM on Monday, November 26, 2018.
You can bring one copy of your headshot and resume to the auditions.
Day of Auditions
Please arrive at least 15 minutes prior to your scheduled time to check in with the registration desk.
You may bring a copy of your monologue and cold readings will be available.
A greeter will brief you on the process and protocol.
If you have any questions, please email audition@pitt.edu.
CASTING AND PRODUCTION POLICY
Theatre Arts Department Casting Statement & Mainstage and Lab Season Mission
We are committed to producing stories from multiple cultural perspectives, of diverse styles and structures and from multiple time periods and global locales.
In order to tell every story upon our stage, student, faculty and guest artists of all abilities, races, genders, sexualities, nationalities, and religions are needed and welcome for our casts, our crews, and our production teams.
As a department and producing organization, we consider our audience to be the Department of Theatre Arts, the University campus and the larger Pittsburgh and regional community.
We are committed to analyzing and understanding a playwright's intentions for location, time and character.
We are equally committed to challenging ourselves and our audiences to think beyond the strictures of given circumstances and historical expectations in production.
We are committing to cultivating spaces, theatres and classrooms in which students, faculty, and guest artist can take risks, stretch themselves,and approach each class, audition and production venture as a fresh opportunity for greatness.
---
Woyzeck - Notes by director Christopher Staley
Rehearsal Dates: January 8 - February 5
Performance Dates: February 6 - February 10          
About the Play: Georg Buchner's Woyzeck is not really Georg Buchner's Woyzeck. The play is a collection of juxtaposed scenes, posthumously published after the young writer's death at twenty-four years old. We know that the subject matter – a cruelly indoctrinated soldier who murders his lover – was loosely based on a true story in 1820's Germany of Johann Christian Woyzeck, who, after murdering his wife became Germany's first legal defendant to plead insanity. The case of Woyzeck became one of the most important in German forensic psychology, and in turn, the play of Woyzeck achieved a similar scale in theatre history becoming, to some standards, one of the first "modern" tragedies. As theatre makers, we know that the scenes were left unarranged on the late Buchner's desk, meaning we can read only fragments of the author's disjointed work as they are recombined by translators, directors, and performers. While many productions – many Woyzecks – aim to "solve" these problems of narrative structure and formalist meaning, this current production will embrace such meta-theatrical problems. This lab will be set in Pittsburgh, 2019, and it will also be set in Leipzig, Germany, 1821. The cast will play themselves, and also play fictionalized characters. Sticking to a monodramatic and forensic model, the ensemble will all be cast as the figure Woyzeck, or "a Woyzeck." This move is to emphasize that the remaining characters – Marie, Andres, the Doctor, the Captain, the Drum Major, Margaret, the Showman, the Grandmother, the Child, and others – are all figments of Woyzeck's deluded mindscape.  I am seeking a diverse group of nine performers, nine Woyzecks, who can showcase their ensemble skills and devising talents. Of special interest are actors with musical experience (singing or instrument), dance (any), devising (e.g. compositions), and/or other actor/movement trainings (e.g. Viewpoints/Suzuki, stage combat, Droznin, physical improv, et al.).
Character Breakdown:
Woyzeck: a soldier
Woyzeck: a soldier's lover
Woyzeck: a soldier's friend
Woyzeck: a soldier's experimenter
Woyzeck: a soldier's leader
Woyzeck: a lover's lover
Woyzeck: a trickster
Woyzeck: a neighbor
Woyzeck: a parent's parent
Woyzeck: a parent's child
Director's Notes for Auditions: Please prepare a contemporary monologue, either comedic or dramatic. Optionally, actors may also prepare a short acapella selection.
Please do read about the play – or better, read a version of the play – before auditioning. Note that subject matter and text deal with strong language, violence, and disturbing content.
---
Flyin' West - Notes by director KJ Gilmer
Rehearsal Dates: January 8 - February 13
Performance Dates: February 14 - February 24
About the Play: Facing problems ranging from the inevitability of long, cold winters, to the possibility of domestic violence, to the continuing spectra of racial conflict, the women of Flyin' West include Miss Leah, the old woman whose memories of slavery and its aftermath comprise a living oral history; Sophie Washington, whose determination to protect her land and those she loves puts to rest forever the requirement that western archetypes be white and male; Fannie Mae Dove, the gentle sister, trying to civilize the frontier with fine china and roses, who finds herself falling in love with their soft-spoken neighbor, Wil Parish; and Minnie Dove Charles, the headstrong baby sister whose mulatto husband, Frank, introduces a danger into the household that tests their sisterhood in unexpected ways.
Following the end of the Civil War, many former slaves, anxious to leave the South and the increasing disappointments and dangers of Reconstruction, took advantage of The Homestead Act and went West to build new lives for themselves and their families. Many of these homesteaders were black women who overcame tremendous odds to work their own land and make a place for themselves in an often harsh and forbidding environment. Set in 1898, Flyin' West is the story of some of these African-American female pioneers who settled, together, in the all-black town of Nicodemus, Kansas.
Character Breakdown:
Frank Charles
Frank is Minnie's thirty-six-year-old domineering and abusive husband. He is a man of mixed heritage whose mother was a slave owned by his father. Because of his light skin, he is often mistaken for a white man. Frank romanticizes his parents' relationship, claiming that they were in love and that his father wanted to marry his mother, despite the fact that he would not free her. Frank and Minnie live in London, enjoying a wealthy lifestyle because of the money Frank receives from his father. When his father dies, however, the family disowns him, leaving him penniless and desperate. Frank has a superior attitude and looks down on Minnie's family. He regards himself as sophisticated and elite, and he has no respect for the difficult life on the western plains.
Minnie Dove Charles
Minnie turns twenty-one years old during the play and is married to Frank, who is fifteen years her senior. While Minnie loves her family very much, she is not strong enough to stand up to her abusive husband. As a result, she rarely sees her family because she lives in London, where she is not happy. Minnie left Memphis with Fannie and Sophie so that they could claim free land in Kansas and make a new life together. When she attends a conservatory (she has a beautiful voice), she meets Frank.
Fannie Dove
Fannie is thirty-two years old and unmarried. She lives with Sophie and Miss Leah outside the all-black town of Nicodemus, Kansas. She and the other women run a wheat farm and have achieved self-sufficiency. Fannie enjoys the outdoors and is especially fond of flowers. Although she and Wil are very close to each other, it is not until the end of the play that they make plans to wed. In family matters, Fannie is a peacemaker. She believes in love and family, and she encourages Minnie to work out her marital problems with Frank.
Miss Leah
Miss Leah is a seventy-three-year-old woman who spent most of her life in slavery. She gave birth to ten children while she was a slave, and she lost them all to the trade. After she became free, she and her husband had five more children together, but they were all lost to illness. When her husband died, she buried him and headed west in hope of a better life. Miss Leah now lives with Sophie and Fannie. She is a feisty woman who demands respect, speaks her mind, and believes strongly in the oral tradition. Although Fannie wants to preserve Miss Leah's stories in writing, Miss Leah insists that some stories can only be preserved by being told. At the end of the play, she continues the oral tradition by telling stories to Minnie's baby girl.
Wil Parish
Wil is a forty-year-old man who was born into slavery. After he ran away, he was raised by the Seminole Indians and lived in Mexico before settling West.  He is a trusted and loyal friend of the women, but he has a special relationship with Fannie. At the end of the play, they are finally engaged. Wil is diligent in work and protective in relationships. He is respectful of all of the women, and his character provides a contrast to Frank.
Sophie Washington
Sophie is a thirty-six-year-old woman who was born into slavery and is now determined to make the most of her chance at independence. She is strong, both physically and emotionally, and she performs her responsibilities without complaining. She is also a visionary with a plan for what Nicodemus can become in the future. She envisions an all-black town complete with schools, churches, and libraries. Sophie is not actually a sister of Fannie and Minnie, although the relationship among the three women has developed as if they were all related.
Director's Notes for Auditions: Be ready to perform two well-prepared, memorized monologues from published plays. They must be contrasting pieces: one dramatic and one comedic, or one classical and one contemporary. Monologues should represent your current range, i.e., age, type or character.
Do your best to familiarize yourself with the show for which you are auditioning. Try to obtain a copy of the script and read it. At the very least, look up a synopsis online so that you are as familiar as possible with the story and the characters.
---
Into the Woods - Note's by director Niffer Clarke
Rehearsal Dates: February 18 - April 3
Performance Dates: April 4 - April 14
Director's Note about the Musical: For me, Into the Woods is a journey from an Act I "Me" story (i.e. the characters in Act I are focused on "what I want") to an Act II awareness of interdependence. So, Act I is fairy tale/uncomplicated idealized untruths, happily ever after core belief; Act II is Truth, authentic complicated truths. Therefore, all of the characters must show the capacity to take this journey. I want the journey for the characters to be one from fairy tale to living, not happily ever after, but just living life. So, not dark — but authentic. Some more thoughts: Fairy tales end with 'The End,' but in real life, where one story ends, another one begins. In struggling with life's questions— 'you are not alone, no one is alone.'
Character Breakdown:
NARRATOR - think the Grandpa character (Peter Falk) in Princess Bride or a more serious "Man in Chair" from Drowsy Chaperone
MYSTERIOUS MAN - just that; clearly invested in the journey and in helping the Baker
CINDERELLA - fairytale Cinderella with strength, courage (i.e. Ella in Ella Enchanted vs. Disney); kind, caring, not afraid of hard work; can talk to birds and they're loyal to her
JACK - young sensitive boy full of hope, optimism, trust, whose only friend in the world is Milky White, absent-minded, daydreamer
JACK'S MOTHER - hard-working single mom, just can't overcome financial hardship, loves her son but gets frustrated by what she sees as his simple-ness
BAKER - trying to make things as good as they can be in the present; is okay with how they are, and wants to make his wife happy; more of a type B personality; kind, soft-spoken; wants to be the hero, but doesn't really have the personality
BAKER'S WIFE - frustrated with the status quo (perhaps then has some trouble with her husband's acceptance of status quo); smart, brave, adventurous, funny, friendly, loving, pragmatic, simplistic; she has the hero personality
CINDERELLA'S STEPMOTHER - archetypal evil stepmother; cruel, abusive, ruthless to Cinderella; unfairly generous and kind to her own daughters
FLORINDA - totally spoiled, self-absorbed, self-important mean girl; older of the two    
LUCINDA - totally spoiled, self-absorbed, self-important mean girl; follower of Florinda
CINDERELLA'S FATHER - totally at the mercy of and dominated by the Stepmother
LITTLE RED RIDINGHOOD - fairytale Little Red who is feisty, willful, brave and opinionated
WITCH - distrusts people and the world in general; not necessarily evil but manipulative and vindictive; believes obtaining her youth and beauty will solve all of her problems including keeping Rapunzel with her forever
CINDERELLA'S MOTHER
- inspiring, ethereal, kind, caring
GRANNY - Little Red's Granny; probably where Little Red gets her feistiness and independence from
CINDERELLA'S PRINCE - charming yet insincere, seductive, but kind and brave
WOLF - a predator, cunning, manipulative
RAPUNZEL - kind and beautiful, yet sheltered, confined to a tower but longs to be treated like an adult and to experience life
RAPUNZEL'S PRINCE - dashing, eager, chivalrous, gallant, kind-hearted; remains faithful to Rapunzel
STEWARD - Cinderella's Prince's right-hand man; pragmatic, by-the-book, sensible, logical
GIANT (female voice) — the wife of the Giant that Jack killed when he chopped down the tree; wants revenge
SNOW WHITE - as in fairytale
SLEEPING BEAUTY - as in fairytale
Possible double-casting:
NARRATOR/MYSTERIOUS MAN
CINDERELLA'S PRINCE/WOLF
CINDERELLA'S MOTHER/GRANNY/SLEEPING BEAUTY
SNOW WHITE/HARP
Director's Notes for Auditions: Please Prepare a 32-bar (or close to 32-bar) song from the musical theatre repertoire and a monologue that you love  
---
Antigone - Notes by director Luke Pomrenke
Rehearsal Dates: March 4 - April 9
Performance Dates: April 10 - April 14
About the Play: "Tragedy is restful; and the reason is that hope, that foul, deceitful thing, has no part in it. There isn't any hope. You're trapped. The whole sky has fallen on you, and all you can do about it is to shout" – Chorus
This adaptation of the Greek classic, first produced in Nazi-occupied France under the supervision of German censors, explores what it actually means to resist. After a recent war for control of Thebes that ended in the deaths of Eteocles and Polynices, Creon has taken control of the city and declared that Polynices' body will be left out to rot as an example. Antigone defies these orders at her own peril and risks her life to bury Polynices.
What does it mean to resist the "law"? What is the cost of resistance? What causes are worth fighting for? Antigone's fight against the overwhelming power of the state, and Creon's attempts to silence her, resonate strongly in the current cultural and social climate. Antigone is, largely, the only woman in the play to speak up, and she is forced to give everything for this choice – a right that others take for granted.
Who are the voiced and the voiceless? When everything seems to suggest that you don't matter, how do you break through? In Antigone's words, "what a person can do, a person should do."
Character Breakdown:
Chorus – a guide through the events of the play; directly addresses audience; honest
Antigone –niece of King Creon; strong-willed; uncompromising
Nurse – caretaker of Antigone and Ismene; sensitive; tendency to worry
Ismene – Antigone's sister; cautious
Haemon – son of King Creon; fiancée of Antigone; caring
Creon – King of Thebes; pragmatic; doing all he can to restore a war-torn city to peace
First Guard – head of the guards; down-to-earth; straightforward
Second Guard – obedient; focused
Third Guard – unassuming; rough
Messenger – messenger for the royalty; urgent; dutiful
Page – Creon's attendant; quiet; attentive
Eurydice – Queen of Thebes; wife of Creon; voiceless (Eurydice has no lines in this play, but I am expecting that she will be a significant presence onstage at some key moments)
Director's Notes for Auditions: The character breakdowns are intended not to guide you towards what this character will "be," but simply how the script portrays them. These characters are all infinitely more complex than they will seem as described below, and what I really want is to see you – honestly and truthfully, with every particular aspect that you have to share.
I encourage performers of all experience levels, identities, and backgrounds to audition. These characters will all be flexible in terms of casting. Additionally, I expect to do more physical work than the script suggests. Characters will likely be onstage in scenes where the script doesn't have them present. 
Please prepare a 1-2 minute monologue of your choosing.
---
On Trial - Notes by director Nic Barilar
Rehearsal Dates: March 4 - April 11
Performance Dates: April 12 - 14
The production is supported by the generosity of PittStages, the European Studies Center, and the Provost's Year of PittGlobal.
About the Play: Set in 1960s Ireland, On Trial is a court drama that investigates a murder. Interweaving the lawyers' cross-examination of the characters with scenes from the story, the play follows Maura, a young woman who allegedly killed her child. Metatheatrical and political, the play critiques patriarchal attitudes and ultimately puts society on trial.
All actors will be required to speak with an Irish dialect, but are not expected to have a perfect dialect for either auditions or callbacks. Rather, the director and dialects coach will be looking for a capacity to learn the Irish within the span of the semester.
**The roles of Maura and Kevin require intimate contact including kissing. No nudity. How this is staged is not pre-determined and will depend upon what the actors are comfortable with. Performers will NOT be asked to kiss during auditions or callbacks. Please indicate your willingness to participate in this regard on your audition form.
Character Breakdown:
Maura Cassidy – a young woman, sheltered and naïve, in love with Kevin
Kevin O'Clery – a local school-teacher who has an extramarital affair with Maura
Mary Cassidy – Maura's mother, a religious woman, a widow who raised her family alone
Sean Cassidy – Maura's younger brother, studying to be a priest at the urging of his mother
Liam Cassidy – Maura's older brother, the only one gifted with some freedom in Mary's house
Calum O'Shea – another school-teacher, Kevin's colleague and friend
Mrs. Morris – a woman of some means who takes in Maura as a servant
Anna Brazil – a social worker trying to help Maura
Molly – a sex worker who gives Maura shelter
Counsel for the Prosecution – prosecuting lawyer
Counsel for the Defense – defense attorney
Casting will embrace diversity. Actors of all races, ethnicities, gender expressions, ages, body shapes and sizes, abilities, and backgrounds will be considered. 6 women and 4 men-most actors will play multiple characters.
---
Recoil - Notes by director Cynthia Croot
Rehearsal Dates: March 11 - April 4
Performance Dates: April 5 - April 7
About the Play: Recoil is an ensemble-driven show devised last spring here at Pitt. We incorporated source material like written texts, images, video, music, and choreography in our collaboration, and the production centered on an inquiry into the use of guns and gun ownership in the United States.
In this new version of the play, there will be extensive revisions to the original script, and a smaller cast. The show will have a run time of approximately 45 minutes and will not occur on campus. Instead, Recoil will be performed at least once between April 5-7 at the Smithsonian Museum in Washington, D.C. as part of the ACC Smithsonian Creativity and Innovation Festival this spring. Travel and lodging will be covered.
Rehearsal will include research into the history of guns, difficult topics like mass shootings in the U.S. (including the recent events in Pittsburgh), and first-person accounts of college-aged people and their experiences. We seek performers experienced in Viewpoints training and devised work, those who have a strong command of their expressive instrument and are inspired to work in a collaborative way. We aim to create an ensemble reflecting the diverse identities, backgrounds, skills, and experiences of our students.