The 478-seat Charity Randall Theatre, dedicated in 2003 following a $3.2 million renovation of the Foster, replicates the grandeur and features of the original Foster auditorium, from the restored 1930s seats (identical to those first installed in New York City's Radio City Music Hall) to the grand lighting of the theatre's upper vault, evocative of the Cathedral of Learning's majestic Commons Room. The mainstage is equipped with technical, sound, and lighting capabilities to carry Pitt Repertory Theatre and its guest companies far into the 21st century.
Seating Charts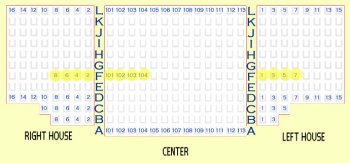 About
Richard E. Rauh Teaching Artist-In-Residence
Ricardo is a Pittsburgh-based actor, singer, and director. He was born in San Juan, Puerto Rico and is directing Water by the Spoonful in October.