Good Kids Production Goes on the Road to SUNY New Paltz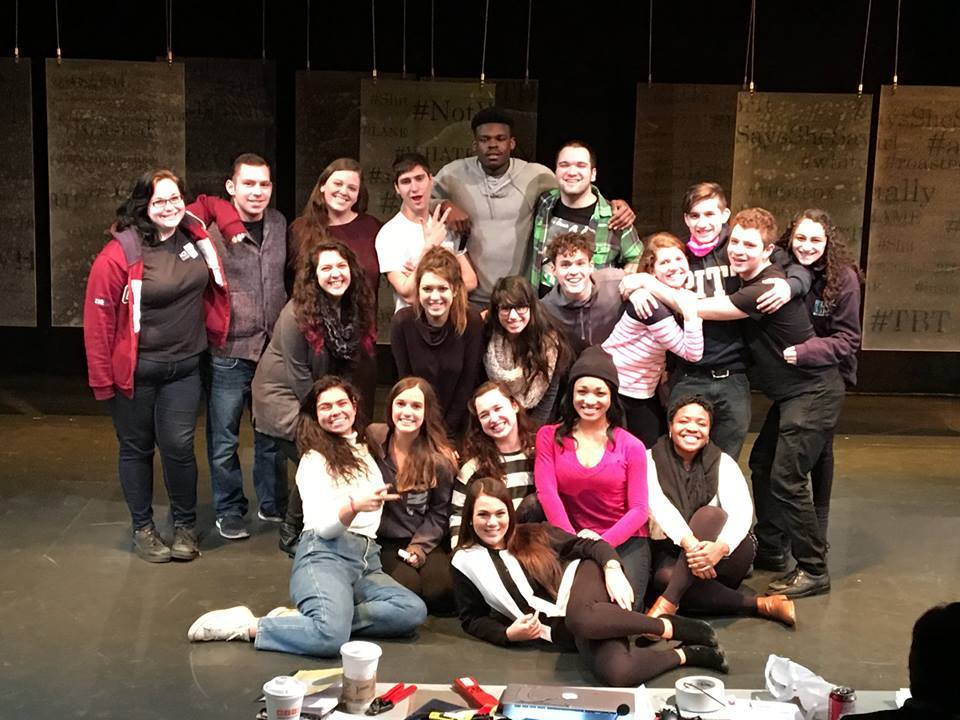 by Clara Wilch
The University of Pittsburgh's Theatre Department broke new ground this semester in taking their production of Good Kids on tour. A Naomi Iizuka play, Good Kids explores the emotions surrounding an incident of rape while exposing and challenging the secrecy, misinformation, assumptions and social inequities that help enable sexual assault. The cast and crew of last semester's outstanding production went above and beyond their already significant achievements, undertaking more rehearsals in January and traveling to New York to perform for members of the State University of New York at New Paltz and the local community. The play was staged four times from January 22nd to January 24th with a discussion following each performance. In addition, Professor Annmarie Duggan and others composed a special panel called "Women and Diversity in Theatre," which further expanded issues of gender discrimination into the work context, and provided insights into possibilities of professional theatre work.
The opportunity to take Good Kids to another campus evolved through conversations Pitt Theatre Department Chair Annmarie Duggan had with a colleague at SUNY New Paltz. However, according to Professor Duggan and Professor Lisa Jackson-Schebetta (Good Kids' producer and co-director, respectively,) the drive and work it took to remount the show came from the exceptional student cast and crew. The New Paltz production was a 24/7 effort, Duggan said, to which the students unanimously committed. "We put them on a stage, and they ran the show," she summarized, "it wasn't just fun- it was exceptional." Both professors attested to the remarkable professionalism and passion these students exhibited in order to share the play's exploration of difficult but urgent subjects with another campus- along with the honest conversation it generates.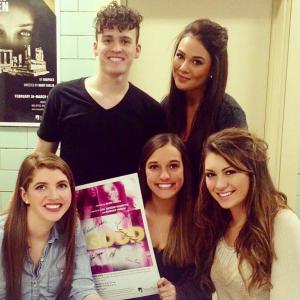 Pitt student and Good Kids actor Tanner Prime spoke to the special quality of the post-show conversations with audiences- "As much as theatre tries to depict human life, sometimes it's too complicated," he said, noting that the play doesn't explore dimensions like LGBTQ issues. Still, he said, Good Kids is "a good starting point- you can build on it." In this writer's experience as an audience and discussion member, the post-show conversations did build on Good Kids, using the space that the production's openness and honesty had created to share solutions and other perspectives not directly addressed in the script. "It's a topic that needs to be talked about," Prime said, expressing a sense of privilege and of duty in doing his part for the tour. It's also significant that Pitt's Good Kids couchs much needed conversations about sexual violence in the empathetic commitment of a mixed-gender ensemble of college students. Prime observed the power of this, saying, "You see people that are in the same family as you. They're students saying, 'We don't want this. We, as you guys, don't want this.'"
The decisions by lighting designer Professor Duggan and set designer Professor Downs also served to elevate and expand the significance of the play. The design enveloped the audience in the "overwhelming, over-stimulating" environment of social media Professor Duggan explained- a space to which most Americans, especially young-adults, can strongly relate. Another important element of the production was the commitment to make the New Paltz shows, like the Pitt shows, free. Professor Jackson-Schebetta helped to generate connections with multiple campus organizations in order to accomplish this at Pitt and keep the conversation "complex, open and energized." All the artistry and effort involved in this production was directed at meaningfully changing lives for the better, by generating visibility of sexual crimes, and awareness of regressive phenomenons like victim-blaming and being a passive by-stander to assault. Professor Duggan said, "When we did [Good Kids at Pitt and at New Paltz] someone was saved and will be saved- and that is why this play is worth doing." These Pitt students and faculty are seeking further oppurtunities to share the production they've worked so hard on, and the messages they believe in; They also encourage other campuses and communities to engage with Good Kids and the vitally important conversations it can begin.