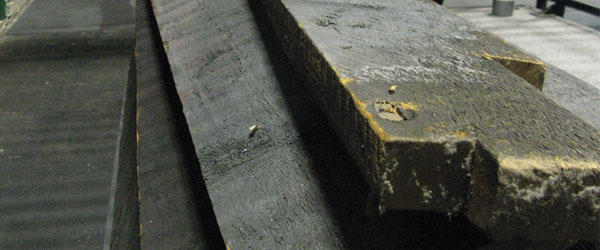 This semester, the Studio Theatre will undergo a number of renovations including the addition of a new sprung floor, a lighting grid, and a modular panel system for the outer wall. During the courrse of the improvements, we've removed the old wooden louvers that used to surround the black box theatre.
Now's you chance to take home a piece of Pitt theatre history. Every donation of $25 or more is eligible to recieve either a small brick-sized piece of louver wood, or a full-sized louver. The choice is yours (but if you want a full louver, you have to come pick it up).
Here's how it works.
Make a donation either online or by mail*.
Send a note to Josh Storey (jstorey@pitt.edu) and let him know if you want a piece or a full louver.
Once your donation is confirmed, we'll pack up your piece of louver and send it out (or set aside your full louver and wait for your pickup).
NOTE: if you want us to mail you the small piece, please add an additional $12 to your donation to cover shipping costs.
*Checks should be made out to "University of Pittsburgh Department of Theatre Arts" and mailed to:
University of Pittsburgh
Department of Theatre Arts
ATTN: Josh Storey
1617 Cathedral of Learning
Pittsburgh, PA 15260