UP Stages Welcomes Sol Crespo!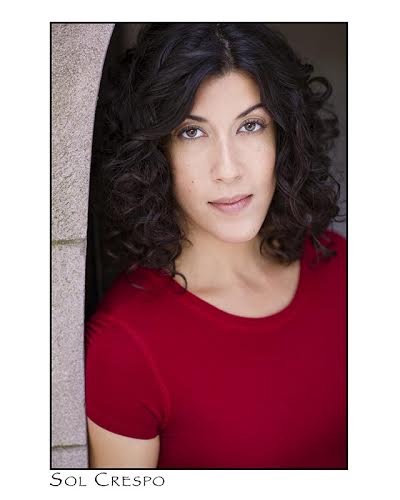 As of the moment of this writing, casting for the first half of the '15-'16 University of Pittsburgh Stages season has not even begun, but one is sure of her place. This semester, UP Stages is hosting guest artist Sol Crespo who will be playing the role of Odessa in the first main stage season offering: Water By the Spoonful.
While this is Crespo's first outing with the University of Pittsburgh Stages, she will be a returnee to the city of Pittsburgh, having performed with the No Name Players this past summer in their production of Scott T. Barsotti's Brewed to rave reviews.
Crespo has previously been involved with a number of theatre companies. Based in New York, she is a Creative Partner with Flux Theatre Ensemble (hyperlink to www.fluxtheatre.org) where her work garnered her recognition from NYTheatre as one of Indie Theatre Now's People of the Year for 2012. Her work at Flux Theatre Ensemble includes appearances in Jane the Pain, Deinde, Menders, and Ajax in Iraq. In 2005 she was awarded the HOLA Award for Outstanding Performance of a Featured Female Actor for her portrayal of Griseldi in The Missteps of a Salsa Dancer by Candido Tirado. She is also a company member of the award-winning Pregones Theatre/Puerto Rican Traveling Theatre, where she has appeared in Aloha Boricua, Red Rose, and Neon Baby. In addition to her work as an actress, Crespo has also been commissioned by Pregones to write plays addressing teen dating violence and prevention and elderly abuse prevention.
In Water by the Spoonful she will play Odessa, a woman who runs an online support forum for former and recovering crack addicts, such as herself. "When I was initially approached by [director] Mr. Vila-Roger I was head over heels with the possibility of playing Yazmin," said Crespo. "He quickly clarified that I would be playing Odessa. More than delving into the world of addiction, what scares me most is portraying a mother, honestly. It is a challenge that I am eager to meet." She said what captivates her about Odessa is her "outpouring of love for her fellow junkies and why is it so hard to show that affection to her own family. I am interested in what the everyday battle against relapse looks like. What are the physical, chemical, emotional, psychological relationships to addiction and recovery?" On the play as a whole, she said, "Water by the Spoonful is one of the most beautiful plays I've ever encountered. It is a story of family and home, addiction and recovery."
She also said that she is particularly excited about working with younger students again. "Recently, I've been taking classes to 'stay in shape' craft wise, and this is a wonderful opportunity to be 'back in school,'" she said. "The last time I was in [an educational] setting I was very young, about the age these students are, and this time around I can engage in the work with a sense of confidence and wonder while still being open to a learning process."
A native of Puerto Rico, Sol Crespo earned her BFA in Drama from NYU's Experimental Theatre Wing at the Tisch School of the Arts in addition to a BA in Latin American Studies. She has since continued to study and hone her craft at the Linklater Institute (New York), LAByrinth Theatre (Los Angeles), Dell Arte International School for Physical Theatre and Choreographic Theatre at Pantheatre (Paris), Danza Contemporánea (Cuba), and LUME Teatro (Brazil).
Visit her website (www.solmarina.com) and follow her on Facebook and Twitter (@solshine_787).