USITT Student Scenic Painting Challenge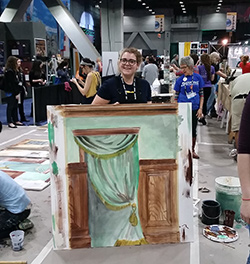 Walking into my first USITT Annual Conference & Stage Expo in Cincinnati, Ohio, I had no idea the magnitude of possibilities available through such a unique organization of students and professionals within the industry. I wanted to take advantage of every opportunity available, and decided to sign-up for the Student Scenic Painting Challenge.
At the University of Pittsburgh, I am a junior and primarily a stage manager. Due to the nature of the BA program, I have been able to explore other departments and apply my skills across the board. A year ago, I began scenic painting under the guidance of my advisor, Gianni Downs, and was even awarded a Chancellor's Undergraduate Teaching Assistant Fellowship to assist him with the Scenic Painting Course.