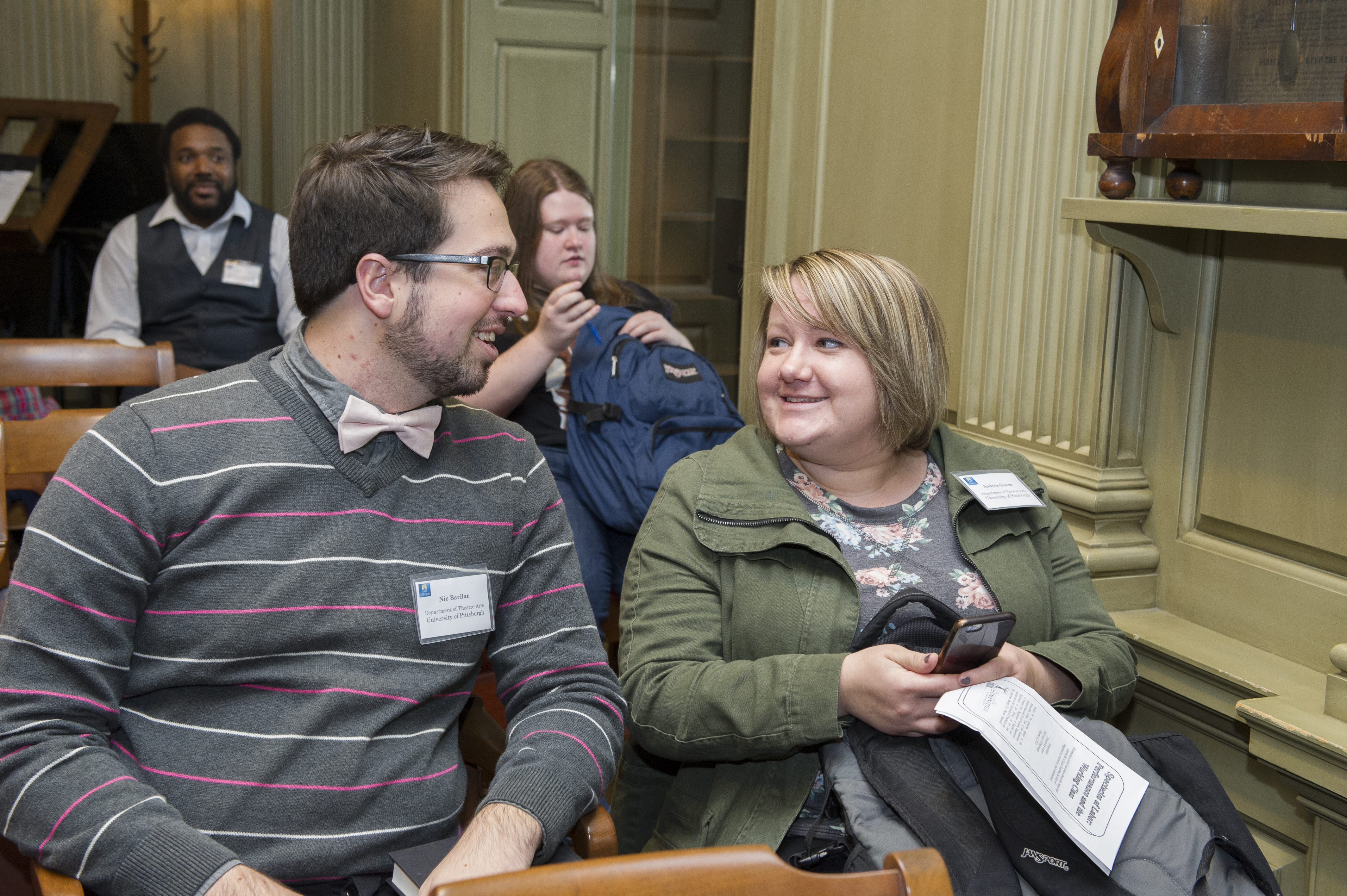 Nic Barilar (PhD) and Andrea Gunoe (PhD)
The PhD program in Theatre and Performance Studies prioritizes the integration of scholarship with teaching and artistic practice in order to prepare students to be competitive candidates for academic positions at a variety of institutions, post-doctoral research opportunities, and employment sectors beyond academia. In line with the department's intellectual vision, the program integrates theory and practice and focuses on underrepresented groups and areas of research, including migration, disability studies, race, gender, sexuality, religion, and transnationalism, across historical, historiographical, literary, performance, and practice-based research methodologies.
The program integrates scholarship with experiential learning opportunities through a curricular requirement called the Immersive Practice Credential. Each student develops a 12-15 credit program of individualized study focused an area of artistic practice, such as directing, dramaturgy, or playwriting, or a professional career outside of the academy, such as Public Humanities or Education and Community Engagement. In their Immersive Practice Credential coursework, students work with Theatre Arts faculty and MFA students as well as pursue professional training and internship opportunities outside of the university.
Mentored by faculty, each student develops their pedagogy through scaffolded teaching opportunities. These experiences allow students to acquire and practice pedagogical skills in smaller practice-based classes as well as larger lecture and discussion courses in theatre history, performance studies, and script analysis for majors and non-major
You can find more information about admissions, the program, curriculum, current students, and alumni at the links below:
Graduate Application Information
Contact
For information on the application process, please contact

LJ Woolcock
Graduate Student Administrator
liw151@pitt.edu
For questions or information regarding the Theatre Arts Graduate Programs, please contact:
Michelle Granshaw
Director of Graduate Studies
mkg31@pitt.edu