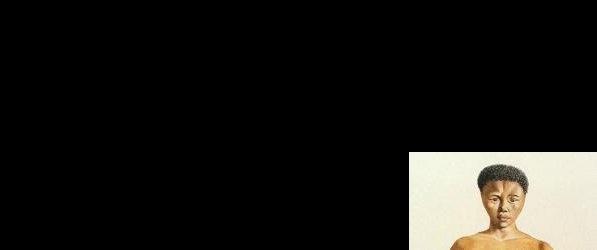 by David Bisaha
University of Pittsburgh Stages is gearing up for Venus, the Pittsburgh premiere production opening October 24 in the Studio Theatre.  The OBIE-winning play Venus, written by Suzan-Lori Parks, explores the life of Saartje (Sarah) Baartman, the so-called "Venus Hottentot" who was displayed in British and French freak shows from 1807 until her death in 1815.
I sat down with Bria Walker, department Teaching Artist and lead actor in Venus, who will be playing the role of Baartman.  We talked about how she is approaching such a historically significant personage, and what Venus will bring to the Pittsburgh theatre scene this season.
---
How did you come to work on this production?
Cynthia Croot [the director] approached me last year about the show.  We chatted about Suzan-Lori Parks, the content of the show, and my possible interest in playing the lead role.  I read the script and saw what a challenge it would be to embody this woman's short but dramatic life.  And since I like a challenge…I told her I was interested.
How have you begun to think about and work on playing the role of Sarah Baartman?
I've been reading lots of material about her life and watching movie adaptations of her story.  I've also created a timeline of her life, so I can see at what age she experienced certain things.  For instance, she became pregnant and lost her child in her teenage years.  Experiencing that in your teens is drastically different than that happening in your late twenties/early thirties.  They're both horrific, but it hits you differently.  Sarah (or Saartje) Baartman only lived to be about 25 or 26.  She lived fast and hard.  It's important to know how each decision led to the next, and when those events happened in her life.
Also, I can't help but be conscious of my own ethnicity.  Saartje was a young African woman.  I'm a young African-American woman.  Anatomically, Saartje looks like members of my family and women that I see every day.  Her body isn't foreign to me.  Who she is is not far from me.  In effect, I can't help but think, "If I, Bria, was born in the early 1800s, would I be put on display because of how I look?"  It's a tough question to ask.  It hurts even more to answer.
What do you think is going to be special about this production at Pitt?
This show is just full of historical information, and since Pitt is a research-based school I think people are going to love seeing this part of history come to life.  Putting on Venus also will allow us to have panel discussions and talkbacks that involve scholars from many different departments.  The concerns brought up by the show are still relevant today, and by putting on the show we will be able to get a more in-depth look at issues such as human trafficking, the history of freak shows, and the status of the African Diaspora.
I know that, for me, the play connects strongly to current conversations we as a country and a world are having now about race, gender, sexuality, and voyeurism in the media.  Why is Suzan-Lori Parks' play important for us to think about right now?
Why? Because Saartje died in 1815 and her remains were just returned to South Africa in 2002.  Why?  Because human and sex trafficking go on to this day.  Why?  Because some people still harbor an overly sexualized idea of black women's bodies.  The "exhibitions" of human flesh continue to this day; now they happen behind a computer/TV screen, instead of a barker beckoning us on a busy street corner.
---
Bria Walker stars as Saartje Baartman in Venus, opening October 25 in the Studio Theatre, produced by University of Pittsburgh Stages.
Image: Saartje (Sarah) Baartman in 1815, Bibliotheque Nationale de France.