Julia Calabrese put together the social media posts MEET THE CAST AND CREW for the Pitt Stages production of Anon(ymous).  Just in case you missed any of the 'Meet the Cast and Crew' posts - they are here to review!
Outstanding job Julia!
---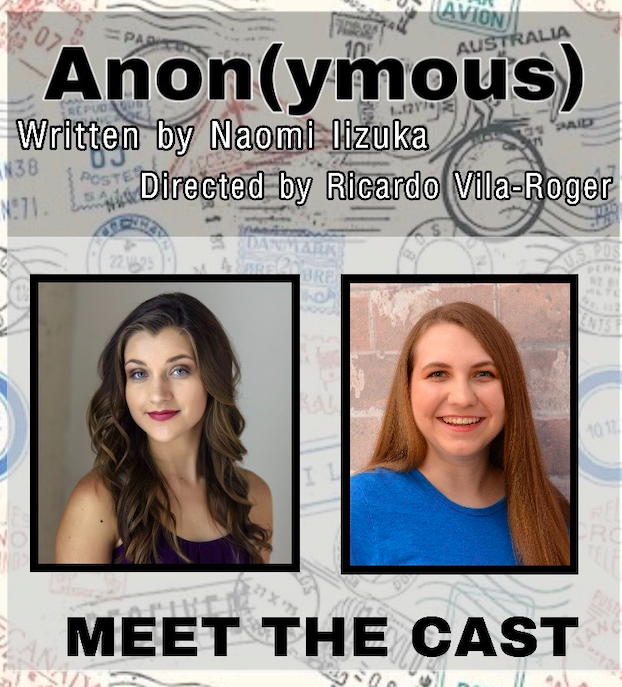 First up, we have Katelyn Kruszewski (left) who plays Calista. She is thrilled to be a part of her first Pitt Stages mainstage production. She is a freshman media communications/theatre arts double major with a music minor. Katelyn takes jazz voice, musical theatre voice, and piano lessons. She is also a part of Pitt's Musical Theatre club. Katelyn writes songs and is in the process of working on an extended play.
Next we have, Savannah Miscik (right) who plays Mrs. Laius/Serza. She is excited to make her Pitt Stages performing debut. She is a sophomore theatre major. Some of Savannah's past roles include Pippin (Berthe), Into the Woods (Cinderella's Mother/Granny/Giant), Footloose (Vi Moore), and Mary Poppins (Winifred Banks). She is also a work study student at Broadway Artists Alliance of New York City.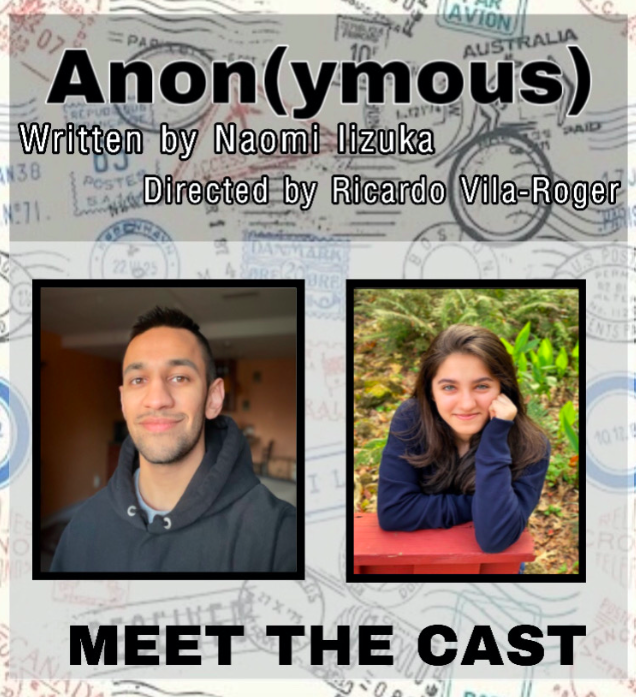 On the left, we have Vinit Joshi who plays Anon. Vinit is a sophomore majoring in neuroscience with a chemistry minor. He is super excited to play the role of Anon as he makes his Pitt Stages debut in ANON(YMOUS)! When he's not on stage, he serves as the music director and producer for Pitt's all-male acapella group, Pitch Please. He has an ardent passion for the performing arts, which he hope to continue pursuing in the coming years. He believes that this rendition of Homer's Odyssey by Naomi Iizuka gives a refreshingly different take on the immigrant's tale. While other such stories may tend to focus on the theme of assimilation, this production works to delve into the immigrant's own identity and experience, presenting them in a much more empowering light. That's why he cherishes this show so much and encourages everyone to see it!
On the right, we have Ria Chadha who plays Naja, Ritu and the Sewing Lady. Ria is a first year student who is looking forward to making her debut in her first Pitt Stages mainstage production ANON(YMOUS). She is a computer science and digital narrative and interactive design double major, and plans to continue learning dance in her spare time.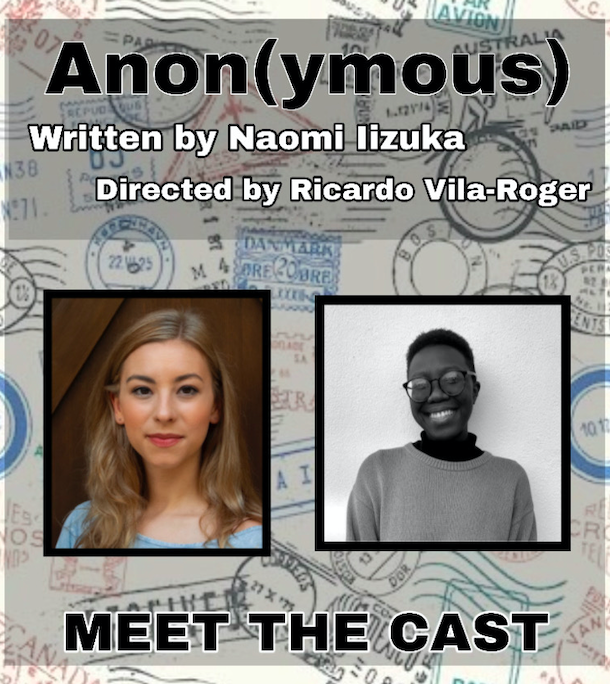 First, we have Grace Ruble (Costume Assistant) on the left! Grace is so excited to be working on ANON(YMOUS). She is a senior theatre and film and media studies double major. She previously appeared onstage in SPARK (Storyteller/Keeper) and will be the editor for the upcoming lab production of "CARRIE & FRANCINE".
Next, we have Kami Beckford (Scenic Director) on the right! Kami is a senior studying architecture and theatre arts. Graduating in less than two months, this is her final production at Pitt, and she's so grateful to have been able to meet so many wonderful people and learn so many spicy things.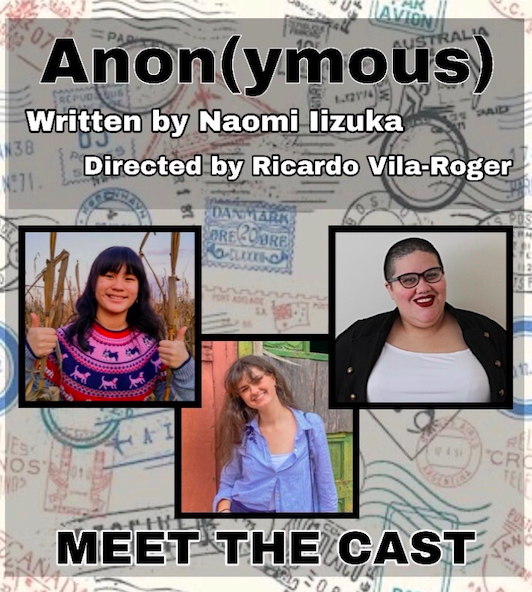 On the left, we have Elizabeth Amstutz (Assistant Sound Designer). Elizabeth is a freshman, and she's been having a blast immersing herself in Pitt's theater department. On this particular venture, she takes her hand at sound designing. In the future, she plans to explore more uncharted theater territory, uncovering new interests and passions.
In the middle, we have Caroline Waters (Dramaturg). Caroline is a first-year studying English literature and film studies at Pitt. Besides reading and writing, she loves yoga, vegan food, and overanalyzing A24 films. ANON(YMOUS) is her first-ever Pitt Stages production as co-dramaturg, but hopefully not her last.
On the right, we have Jennifer Amerman (Dramaturg). Jennifer is excited to work on their first Pitt Stages production. They are a transfer student from Northampton Community College who will continue their studies as a film major. Jennifer has acted in a variety of shows and stages from PICNIC at NCC to PINOCCHIO with the Allentown Public Theater and hopes to continue to pursue their passion for storytelling here at Pitt.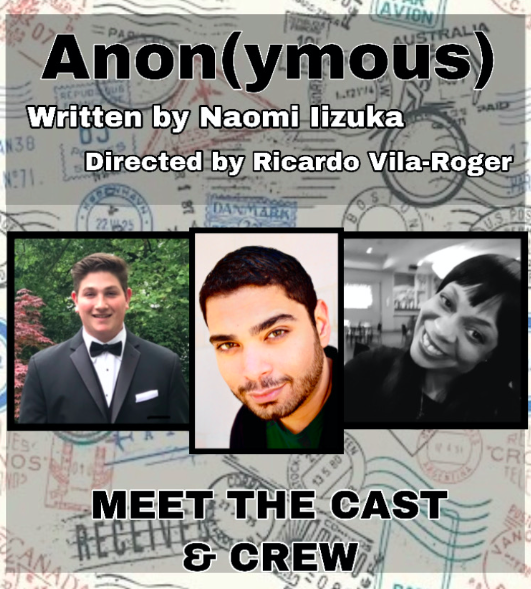 On the left, we have Dylan Irgang (Assistant Stage Manager). Dylan is ecstatic to be working as an ASM for a Pitt Stages show for the first time! He is a sophomore majoring in theatre arts who previously stage managed the lab production ORDINARY DAYS. He hopes you enjoy the show.
In the middle, we have Parag S. Gohel (Pet Bird/Assistant Director/Co-Sound Designer). Parag is a freelance artist and designer who has worked in various roles across local organizations. Teaching artist collaborations include: Pittsburgh Cultural Trust's Education Department, Bricolage's Midnight Radio Program, City Theatre's Young Playwrights Institute, and Creative Dramatics and Shakespeare Competition through Pittsburgh Public Theater, for which he was recently named Director of Education & Community Engagement, after serving as Education Director at Quantum Theatre. Currently as an adjunct at Pitt, Parag has also showcased work in Philadelphia, New York, and internationally. To learn more about Parag, visit https://trustarts.org/blog/artist-to-watch-parag-s-gohel
On the right, we have KJ Gilmer (Costume Designer). Ms. Gilmer is an educator, costume designer, and director at the University of Pittsburgh, where she is the Costume Design Lecturer. Some of her national and regional costume design credits include Pittsburgh Opera, City Theatre Company, St. Michael's Playhouse of Vermont, Opera Theatre of Pittsburgh, Philadelphia Shakespeare Festival, Pittsburgh Playwrights Theatre Co., Walnut Street Theatre, Philadelphia's University of the Arts, Arden Theatre Company, and Everyman Theatre Company of Baltimore. Previously for Pitt Stages, she has directed SPARK by Tom Arvetis, INTIMATE APPAREL by Lynn Nottage and FLYIN' WEST by Pearl Cleage.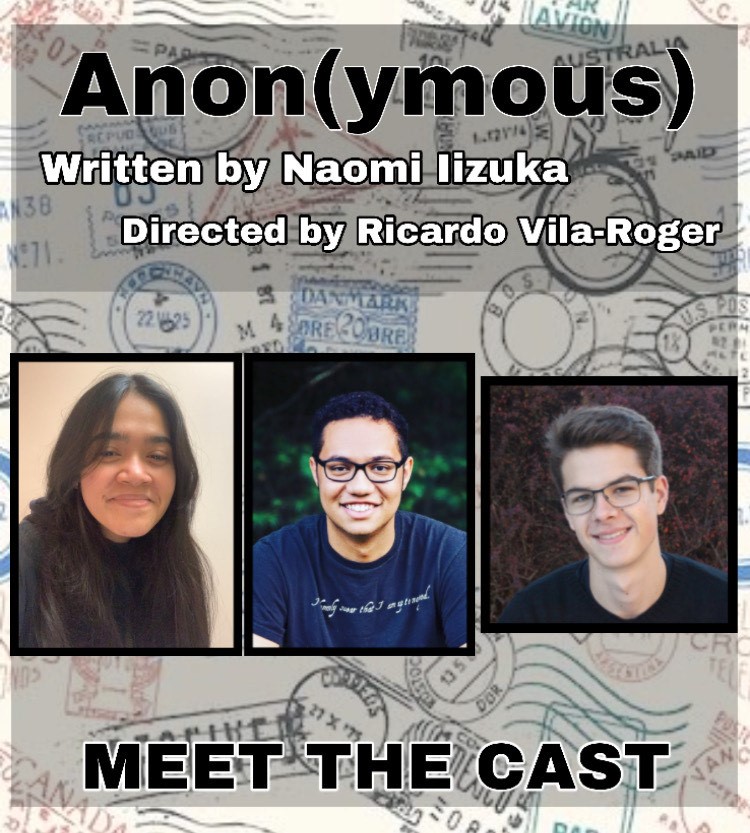 On the left, we have Philipa S. Thambirajah (Nasreen/Belen/Sewing Lady #1). Phillipa is elated to make her debut in her first Pitt Stages mainstage production. She is a freshman psychology major with a love for acting and storytelling. She is excited to take part in Pitt's productions as a continuation of the passions she has had for performance throughout her high school career.
In the middle, we have Sean Hale (Pascal). Sean is junior theatre arts and linguistics double major with a minor in music. He is thrilled to return for another production through Pitt Stages. Past credits include FLYIN' WEST (Wil Parrish), DR. FAUSTUS LIGHTS THE LIGHTS (Little Boy), and SHE KILLS MONSTERS: VIRTUAL REALMS (Miles). He hopes to continue working in theatre well after graduation.
On the right, we have Martin Kovalik (Senator Lauis, Strygal, Bar Fly). Martin is thrilled to make his second appearance in a Pitt Stages main stage production following his contribution to "The Author's Voice." He is a senior English writing major.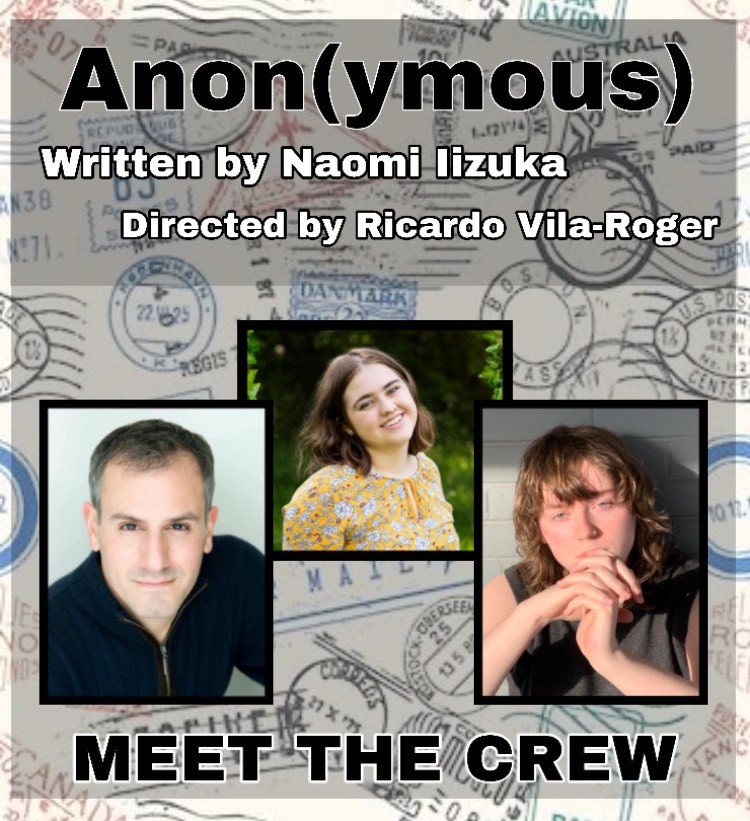 On the left, we have Ricardo Vila-Roger (Director). Ricardo Vila-Roger is a lecturer in the Department of Theatre Arts. Recent credits include INDECENT (Mendel) at the Pittsburgh Public Theater, NEXT TO NORMAL (Dan) with Pitt Stages, and ROMEO & JULIET (Montague & Apothecary) and TARTUFFE (Orgon) for Pittsburgh Public Theater's PlayTime series. Directing credits with Pitt Stages include SHE KILLS MONSTERS: VIRTUAL REALMS, APPROPRIATE, OUR TOWN, and WATER BY THE SPOONFUL.
In the middle, we have Keeley Thomas (Assistant Director). Keeley is so excited to be a part of her first Pitt Stages show as a member of the directing team. She is a freshman economics major. Keeley cannot wait to fully dive into the world of Pitt theatre next semester!
On the right, we have Anabel Blackford (Stage Manager). Anabel is honored to be stage managing their first Pitt Stages mainstage production. In the past, she has stage managed Pitt Dance Ensemble and SHE KILLS MONSTERS: VIRTUAL REALMS. Other past credits include NEXT TO NORMAL, Pitt Dance Ensemble, OBLIVION, HEAD OVER HEELS, and COLLECTIVE RAGE: A PLAY IN FIVE BETTIES.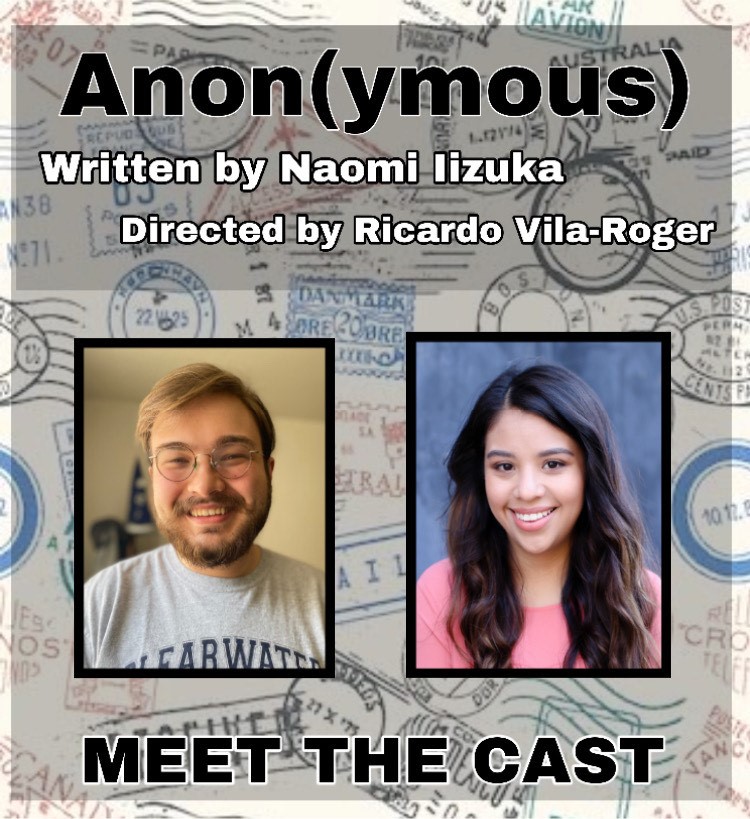 On the left, we have Jacob Aluise (Yuri Mackus, Mr. Zyclo). Jacob is ecstatic to make his Pitt Stages mainstage debut. He is a junior English literature & English writing double major with a theater arts minor. He previously performed in DR. FAUSTUS LIGHTS THE LIGHTS (Dr. Faustus).
On the right, we have María José Hurtado (Nemasani). María is excited to be part of ANON(YMOUS). María is a junior theatre arts and Spanish major. She previously attended AMDA as a music theatre major. Previous shows include Pitt Stages: MISS YOU LIKE HELL (Olivia) and THE VERGE (Elizabeth). María just finished working on shows for Netflix and Showtime that premiere early 2022.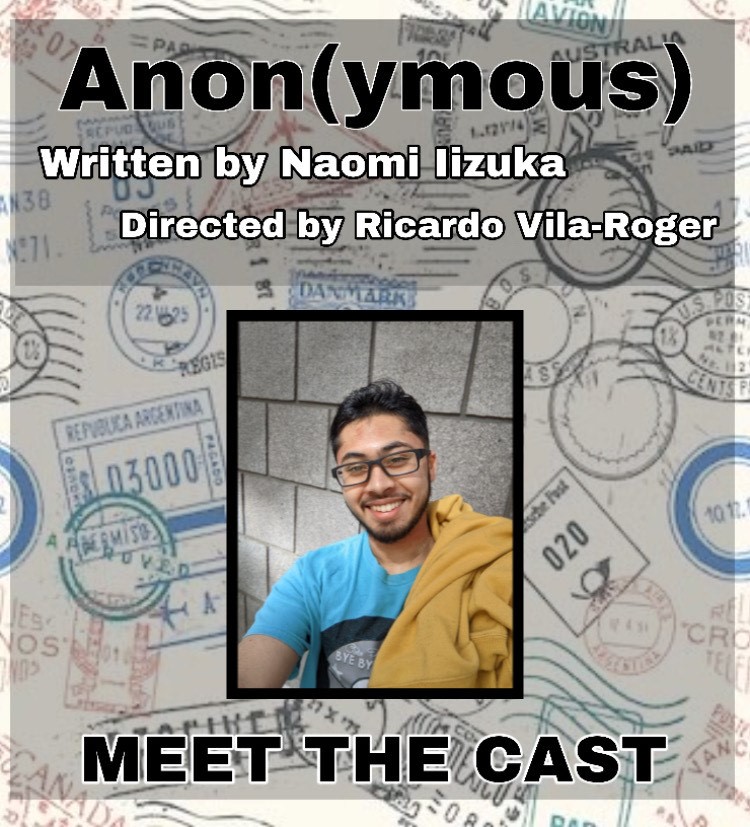 As a new face to the Pitt campus and stage, Abhay Bhatt (Ali) is a freshman majoring in biology with a minor in theater arts. Despite a scientific background, acting has been a skill and passion he loves to cultivate and share with others. With this first role, Abhay hopes to learn the ropes and build his repertoire for future performances to come.