Summer 2022
Congratulations to Courtney Colligan and Shea Hwang who defended their dissertations in July and graduated in August 2002! Courtney Colligan defended her dissertation, "Freedom is a Practice: The Praxis of Postcarceral Performance in the United Kingdom and the United States" This year she will be a Visiting Instructor in the Gender, Sexuality, and Women Studies program at Pitt and is also an adjunct instructor for Theatre teaching Intro to Dramatic Art. Shea Hwang defended her dissertation 'An Island of Death': Crumpled Childhood, Performance, and the Jeju Massacre (1948). Starting this week, she is a Visiting Assistant Professor at Middle Tennessee State University.
Victoria LaFave won the American Theatre and Drama Society's Graduate Student Research/Travel Grant and a Pitt Mellon Pre-Doctoral Fellowship for the 2022-3 academic year. She was also recognized as a Performance Studies Focus Group Emerging Scholar at the Association for Higher Education's 2022 conference where she presented her award-winning paper on the Performance Studies Focus Group's Debut Panel.
Alison Mahoney presented their paper "Devising Access Intimacy: Lessons from Oily Cart's 'Uncancellable' Season" on the Association for Theatre in Higher Education Directing Focus Group panel, "Covid-Era Devising: Toward a New Canon." She also organized the ATHE Performance Studies Focus Group's Emerging Scholars Panel as the Performance Studies Focus Group's Graduate Student Representative. She also joined the Disability Justice Education Project working group, hosted by the Museum, Arts, and Culture Access Consortium.
Chris Staley recently finished his third summer training with the Suzuki Company of Toga. In 2022 his chapter contributions were published in Theatre and the Macabre and Teaching Performance Practices in Remote and Hybrid Spaces. Over the last year, Chris worked in courthouse operations for the anti-incarceration non-profit, Bronx Community Solutions, a borough project of the Center for Court Innovation.  
Theatre Arts is excited to welcome two MFA students and three PhD students to the department.
Karim S. Chebli is a first year MFA Student in the Performance Pedagogy program. Born and raised in Mount Lebanon, the actual country on the eastern shore of the Mediterranean Sea, Karim just left his homeland to join the University of Pittsburgh. He holds a BA in Business Administration, a BA in theater, and an MA in Education Administration and Policy Studies, where his thesis focused on the development of pedagogic content knowledge of theater educators. Alongside his studies, he taught theater, trained with non-governmental organizations and launched a local artistic career, writing, directing and acting in staged productions. Karim's current research focuses on the intersections of Civil War History in Lebanon, performances and conflict resolution.
Hansel Tan is a first year MFA Student in the Performance Pedagogy program. Originally from Singapore, Hansel earned his bachelor's at Wesleyan University researching issues in late Medieval Musicology before establishing a career as an actor in NYC and the regional circuit, appearing on stage, film, and TV. Besides performing, Hansel has conducted workshops at Yale-NUS, the Haque Center of Acting and Creativity (Singapore), and Sightlines Actors Studio (Manila, Philippines), is a Designated Meisner Teacher (The Meisner Institute), and is motivated to investigate extended notions of theatricality, vitality, and the kinesthetic imagination through experimental and experiential pedagogies. Union affiliations: Actor's Equity Association & Screen Actors Guild.
Payne Banister is a first year PhD Student in the Theatre and Performance Studies program. They earned their MA in Theatre and Performance Studies at Washington University in St. Louis, where they explored the precarious working conditions of drag performers in the St. Louis area. Payne researches at the intersections of theater and performance studies, queer and feminist studies, and U.S. cultural history. As a drag performer and scholar, Payne is particularly interested in the cultural, historical, and social contexts of nightlife and queer performance cultures.
Patrick Mullen earned his bachelor's degree in History and English Writing (fiction, poetry) from the University of Pittsburgh, and he earned an MFA in Writing (fiction) from Columbia University. His research attempts to understand why contemporary artists sometimes adhere to classical forms of performance, and sometimes diverge from these forms, in order to engage with recent national memory, especially trauma born from the violence of twentieth and twenty first century conflicts. Currently, he researches international collaborations of artists who adapt classical Noh to tell contemporary stories, particularly stories that challenge the hegemonic state power of repressive governments and/or right-wing extremist movements. 
Frederick D. Miller is a musical theatre dramaturg and playwright. He is the dramaturg for the J2 Spotlight Musical Theatre Company in New York City, and recently worked on the Off-Broadway revivals of The Baker's Wife and A Class Act. He is a recent graduate of Penn State University where his play Headspace received its world premiere in 2021. Although a Nittany Lion through and through, he is excited to join the Pitt Panthers!
Summer/Fall 2021
Congratulations to
Liz Kurtzman and Victoria LaFave for completing their department coursework!
Victoria LaFave received an honorable mention for the 2021 Tamara Horowitz Graduate Student Paper Prize from Pitt's Gender, Sexuality, and Women's Studies Program.
Alison Mahoney published a piece in Theatre Survey's Notes from the Field entitled, "Oily Cart's Space to Be: Exploring the Carer's Role in Sensory Theatre for Neurodiverse Audiences during COVID-19."  Alison also won the Dick Thornburgh Disability Service Award.
Chris Staley presented papers at ATHE 2021, the European Shakespeare Research Association, International Symposium on Olympic and Paralympic Research hosted by the International Centre for Olympic Studies ("Staging Olympism in the Classroom: Teaching Theatre and Performance Studies for Contemporary Global Stages"), and the Comparative Drama Conference (on TMT and Antigone). This summer, he also participated in intensives with Theatre Nohgaku and SITI. He has forthcoming chapters in Theatre and the Macabre and Teaching Performance Practices in Remote and Hybrid Spaces. This fall, he started work at the Bronx Community Solutions and Center for Court Innovation. He also worked as a performance collaborator with the visual artist, Jia-Jen Lin in November, on her video sculpture "Treading on Thin Ice", which will be installed as a solo exhibition at Locust Projects in Miami April 23-June 18, 2022.
Winter 2020-21
Congratulations to
Courtney Colligan, who was selected as a 2021 National Humanities Without Walls Pre-Doctoral Career Diversity Workshop Fellow.
Emma Squire, who was awarded the 2020 American Society for Theatre Research's Helen Chinoy Dissertation Fellowship.
Graduate Student News
In mid-February, several Pitt graduate students will be presenting their work at UCLA's TAPS Graduate Student Conference, "Contact: Performing Proximity": Victoria LaFave, "Touched by History: Senti-Mental Embodiment in the Titanic Musuem Attraction;" Alison Mahoney, "Sensory Theatre during COVID-19;" and Chris Staley, "The Traditional Antinomy of Suzuki Tadashi's Theatre: Globalism and Interculturalism as Multipodal Performance." For more information on the upcoming conference (co-organized by Pitt MA alum Clara Wilch) see the UCLA TAPS conference site.
Chris Staley will present his paper "Active Analysis in Immersive Classrooms: Language Acquisition, Acting, and 'Performing Japanese Culture'" at the American Association of Teachers of Japanese Conference in March.
Chris Staley also is working on an ongoing series of movement collaborations with musicians Devon Osamu Tipp, a Ph.D. candidate in Pitt's Music Department, and Sarah Alice Steranka of Kamratōn Ensemble. Check out Tipp's website , which includes videos and more information on Tipp's development of Sonic Cartography.
Summer 2020
Graduate Student Alumni News Update
Spring 2020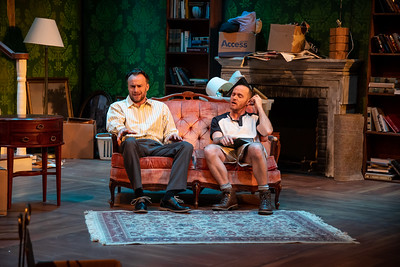 Sean Cook (MFA) and Christopher Staley (PhD)
UP Stages production of Appropriate
Photo by Samantha Saunders Studio
Congratulations to
Nic Barilar (PhD), who was awarded a 2020-1 Mellon Pre-Doctoral Fellowship and European Studies Center Klinzing Dissertation Grant.
Shelby Brewster (PhD), who was awarded a 2020-1 Cultural Studies Graduate Student Fellowship.
Sean Cook (MFA), for successfully defending his thesis, "Stage to Screen: Pivoting from Traditional Theatrical Education Using Selected Techniques of Michael Chekhov." Sean also was awarded the 2020 MFA Teaching Award.
Vicki Hoskins (PhD),  for successfully defending her dissertation, "Playbill Takes the Stage: The Rise of America's Foremost Theatrical Program."
Meg Pryor (MFA), for successfully defending her thesis, "Connection in Chaos: Creating and Embodying Your Story Through Movement."
Emma Squire (PhD), who received a Mellon Pre-Doctoral Fellowship, European Studies Center Klinzing Dissertation Grant, and Jewish Studies Gilboa Research Grant.
Chris Staley (PhD), who was awarded the 2020 PhD Teaching Award.
---
Shelby Brewster (PhD), published "Slow Violence and the Youth Climate Movement" as part of the Editor's Forum: Theorizing the Contemporary for the Society of Cultural Anthropology.
Sean Cook (MFA), directed UP Stages lab production, Oblivion, and performed in UP Stages mainstage production, Appropriate. He also worked for Pittsburgh Playhouse as their Spring 2020 Intimacy Coach.
Andrea Gunoe (PhD), directed UP Stages mainstage production, The Verge.
Chris Staley (PhD), performed in the UP Stages mainstage production, Appropriate. He also appeared in the Pittsburgh Public Theatre's PlayTime reading series.