Julia Kreutzer (BA) is a theatre arts minor.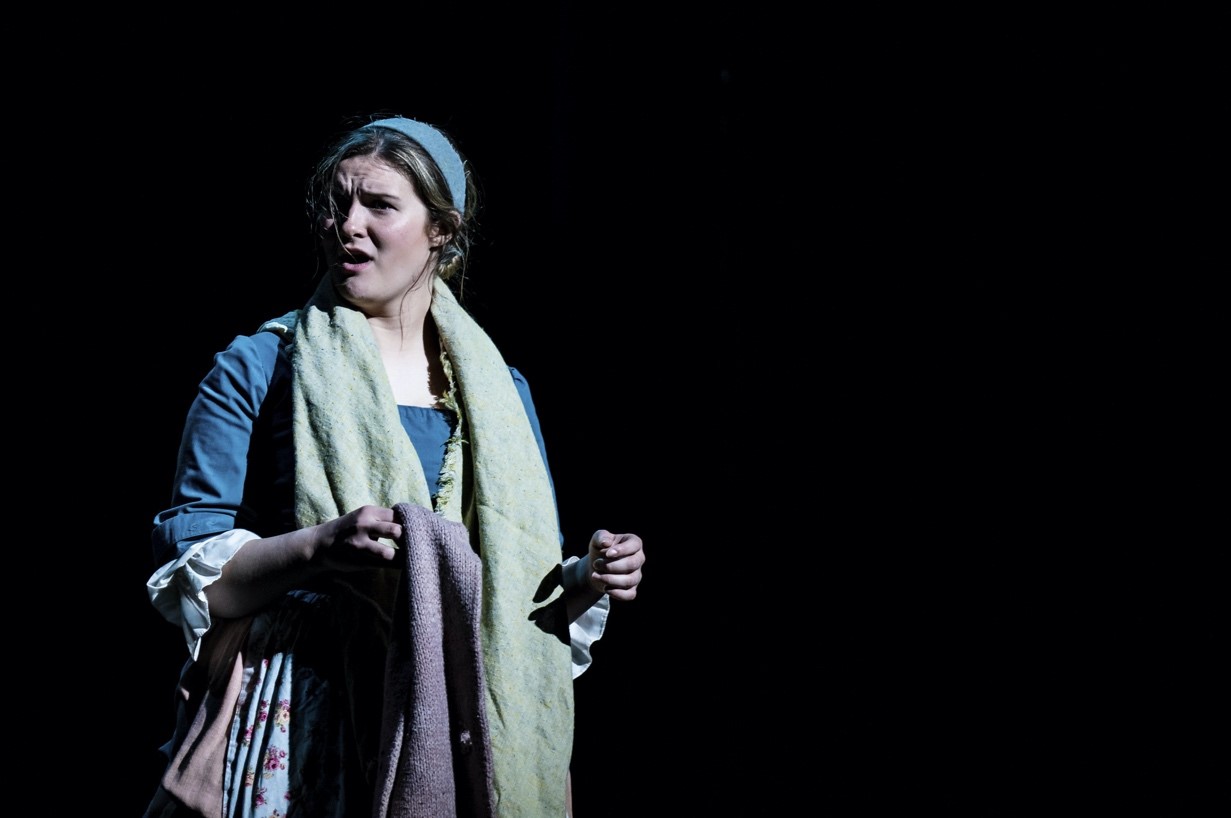 Julia Kreutzer (The Baker's Wife) in the 2019 Pitt Stages production of Into the Woods
What are you studying at Pitt? 
I am a double major in Political Science (focusing on Comparative Politics) and English Writing (Nonfiction); I am also pursuing a minor in Theatre Arts.
How do you see your theatre education contributing to your future goals?
Beyond the tangible skills I gained throughout my theatre education —learning key directing, performance, and dramaturgical skills — I also learned less concrete skills like networking, public speaking, interdisciplinary research, and professionalism.
Is there a research opportunity, production, internship, class, etc. that has been instrumental to your time at Pitt or in helping you form your post-graduation goals?
There are so many opportunities in the department that have had such a profound influence on my goals. Over the summer, I pursued independent interdisciplinary research under the guidance of Dr. Patrick McKelvely; I studied the influence that queer theatre had on the efficacy of the Queer Liberation Movement and, conversely, the influence such a movement had on the development of theatrical trends like Lesbian Camp. I was incredibly fortunate to get to utilize this research in my student lab, Collective Rage, this February, with the support of Professor Kelly Trumbull. This research was instrumental —not only in the continuation of my undergraduate goals to pursue dramaturgy, directing, and thesis writing—but in the reimagination of my post-graduate goal to continue my theatrical education and work towards a Ph.D. in Theatre and Performance Studies.  Additionally, my experience serving as an Undergraduate Teaching Assistant and Assistant Director for Professor Bria Walker have been incredibly impactful. From a performance standpoint, getting to fulfill a childhood dream and play my dream role in Into the Woods, as well as perform in The Wolves, were both key experiences that have had an incredible impact on my college experience.
What do you hope to do when you graduate?
I originally came to Pitt hoping to pursue political journalism post-graduation; however, I have had such enriching experiences throughout my undergraduate career in the theatre department that during my junior year, I began preparations to apply to a variety of Ph.D. programs to work towards becoming a theatre professor or artistic director. Particularly, my interdisciplinary research, newfound love of directing, hands-on experience working with performers in the Musical Theatre Club, and recent interest in dramaturgy have allowed me to reimagine my view of a post-graduate theatre education as not only an asset to performers, but an avenue to pursue academia as a life-long career.
What do you enjoy doing outside of academics?
Since my sophomore year, I have served on the board of the Musical Theatre Club and took over as President in the past year; in this position, I serve as producer for our annual book musical and cabarets, organize general body meetings, and curate other programming such as workshops. Outside of the department, I am a Senior Staff Columnist with the Opinions Desk at the Pitt News, focusing primarily on sociopolitical issues. I also serve as the Social Media Director on the Ambassador Team for the Dietrich School of Arts and Sciences, curating informational material for prospective Pitt students.
Is there something you would like to share that you wish we asked you about?
I feel really lucky to have formed such fulfilling and fruitful relationships with the students and faculty of Pitt Stages; I am very much indebted to those who have given me so many opportunities for growth and support throughout my undergraduate career.