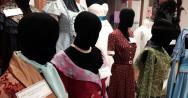 The main lobby of the Department of Theatre Arts is proud to house a retrospective celebrating twenty years of design and dedication from Don Mangone. Don has faithfully served the department as a professor, advisor, and costume designer for our mainstage productions and is retiring at the end of the Fall semester. The display in the lobby showcases designs and costumes from 1995 to 2012.
In the lobby you will find costumes from: Les Liaisons Dangereuses, Hamlet, The Hudsucker Proxy, Canterbury Tales, Much Ado About Nothing, The Learned Ladies, Pericles, Rashomon, The Recruiting Officer, Count Dracula, and Compleat Female Stage Beauty. Accompanying the fully-realized costumes is a collage of some of Don's beautifully rendered artistic designs. The costume sketches represent four productions: Hamlet, Canterbury Tales, Much Ado About Nothing, and The Learned Ladies.  
Don is a member of United Scenic Artists, Local 829, and has designed costumes for both theatre and dance, regionally and abroad. Costume designs for theatre include productions for Florida Stage, Colorado Shakespeare Festival, Florida Studio Theatre, Riverside Theatre in Florida, City Theatre in Pittsburgh, SRT in California, National Shakespeare Company and The Manhattan Ensemble in New York.
He designed costumes for dance at the Laban Centre's Transitions Dance Company and Ballet Rambert in London, BBC Educational TV, Bill Cratty Dance Theatre and the Jose Limon Dance Company in New York, and Princeton Ballet.  Designs for dance have been seen at theatres in France, Canada, Brazil and Russia, and at the Kennedy Center in D.C. and City Center in New York. 
A specific interest in incorporating cultural diversity in the design and theatre curriculum lead to the development of a course in Native American Performance and Design, which he originally created at Smith College, and has taught at PITT.  He also teaches Costume Design, Costume History and Period Style, Stage Design, and related costume technology courses.
Don's costume design artwork has been exhibited on a regular basis, and most recently presented at the annual Fine and Performing Arts Conference for the Athens Institute for Educational Research in Athens, Greece.