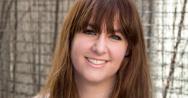 Avenue Q opened November 7 at 8 p.m. in the Studio Theatre. The show runs from November 6-23 Thursdays-Saturdays, 8 p.m. Sundays 2 p.m. Get your tickets in advance at the Box Office located on the 16th floor of the Cathedral of Learning or buy them at the door.  Avenue Q has sold out and as a result University of Pittsburgh Stages has added an extra performance for Saturday, November 22, at 2 p.m.!
Check out our interview with the stage manager, Monica Meyer! Of her work, Avenue Q director, Bria Walker says, "Monica is a shining testament of Pitt's stage management program.  She is organized, calm, an efficient problem solver, and a wonderful person to work with.  She has proven herself to be a very capable professional." Monica is a senior English Literature/Psychology/ Theatre Arts triple major (dual degree) student at Pitt. She is attending Pitt on a full tuition scholarship and have been the two-time recipient of the Burkhart Endowment for English Literature.  She says, "If I had to choose concentrations for my majors, they'd be as follows: English Literature (young adult dystopians), Psychology (interpersonal relations), and Theatre Arts (stage management)."
Stages: What is your experience as a stage manager previous to working on Avenue Q?
Monica Meyer: I didn't do theatre at all my freshman year. I had done it in high school (acting and props) and decided I wanted to pursue a "real" career path. Then I started stage managing by accident when I decided to try out Pitt's Redeye Theatre Project. For fun, I decided to try out being an assistant stage manager. However, I got bumped to stage manager the night before due to a drop-out, and I haven't looked back. From there, I stage managed The Sandalwood Box, Matt & Ben, and Company for Pitt Rep and Musical Theatre Club and assistant stage managed a variety of shows. The summer after my sophomore year I was a stage management intern for a local theatre back in Arizona. I've since done some event management for them. This past summer I was the assistant stage manager for Cortland Repertory Theatre in Cortland, NY.
Stages: What drew you to stage management? 
MM: I'm not exactly sure. As said before, I kind of fell into theatre again (and specifically stage management). Specifically, I like being involved with and seeing the whole show come together. Being a stage manager allows me to walk with the show while it learns to crawl, stand, walk, and eventually run. Being a central point for the tech and creative aspects to come together and to see them evolve throughout the rehearsal process is really intriguing. All shows are different, and stage management allows me to adapt my skills to new challenges--which is great for a career.
Stages: What is your favorite part of the process?
MM: I really love tech. Techs can be really challenging, but they're this tipping point where everything comes together and becomes absolute chaos before finally finding their groove again and becoming a coherent whole. Also it's just fun to be incredibly cheerful while everyone else is prepared for battle. There are also moments throughout the rehearsal process that are just a lot of fun. Working with this cast and creative team has brought me a lot of these moments. Everyone in the cast and the creative and technical teams are so talented that each day, there's just been at least one moment that has reinforced my belief in the collaboration and magic of theatre.
Stages: What are some of the surprises or challenges that have arisen in stage managing Avenue Q, if any?
MM: Avenue Q is the biggest show I've ever done. Thankfully, I've had a great team of collaborators helping me the whole way. Puppets are obviously a big challenge. I've had to take a surprisingly large amount of blocking notes for this show because the actors don't have a free hand to write down their blocking in the moment. Therefore I know they're going to rely on me, and I want to be that steady rock for them to refer to. I was also able to use some of the experiences I gained this summer at Cortland Repertory Theatre positively with this show. For example, in order to remind the cast that they will have to open doors while still wielding puppets, I used music stands to stand in for doors. This seemed to work out really well, and we were able to change some of the blocking preemptively to adjust for the doors (such as having human characters with hands open doors first).
Stages: As a senior what are you hoping to do when you graduate?​
MM: I have a lot of goals once I graduate. Ideally, I would like to go to grad school for stage management and leave with my Equity card to pursue stage managing at the AEA level. I would also be entirely happy just pursuing stage management (and assistant stage management) from graduation onwards. I don't have any set places I'd like to move to start pursing--it's more of a "wherever will take me" deal right now. But I've considered moving to a big city like New York or Chicago for the opportunities. I've also been playing with the idea of working abroad or going on tour. So for now it's really up in the air. I just know that I want to make the most of this time while I'm young and excited about the world.
Stages: What are some things you do outside of stage managing?
MM: I like reading. I read a lot. I blame this for where my love of adventures comes from. I like exploring and going to new places and seeing the world and experiencing everything it has to offer. I also like collecting skills. I always try to challenge myself to learn more about my world and how it operates--all the while knowing that there will never be an end to the learning.
And on a special note from our department chair, Annmarie Duggan about this stellar senior:
"I got to know Monica in her sophomore year when she jumped into working with Redeye. Other students told me how great she was and that I should talk with her about getting more involved in the department. Once I spent a little time with her I realized that she had both an interest and talent in Stage Management. Monica has the potential to be one of the best, she is a get it done person who is organized, but most of all she really enjoys watching the show succeed. She is calling more that 200 light Q's for this production, which can be a challenge for a young stage manager, Monica has taken on the challenge with grace and commitment. The show is better because she is on it."