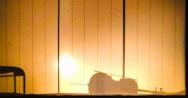 Misterioso-119 director Ellen Connally discusses how she discovered Koffi Kwahulé's play and approached directing the work:
"I discovered the playwright Koffi Kwahulé while working on an independent study on contemporary French theatre during the spring semester of my sophomore year. He was one of several francophone directors and playwrights who I stubbled upon in my research/sifting. Upon reading a French-language synopsis of Misterioso-119, I immediately was drawn to the text and the story, a bizarre and inexplicable "love at first impression." I knew that I wanted to work on it.
As a French and theatre arts student, I am interested in the intersection of these two disciplines, both politically and artistically. As I have grappled with the text, so too have I grappled with a research question: could cross-cultural tensions be successfully approached through multilingual communication onstage? To try and answer this question, my fearless cast and I have been experimenting with two spoken languages in addition to physicality and visual aspects, all four serving as doorways into the greater cross-cultural issues imbedded in Kwahulé's work, such as the female identity, the judicial system, and, most prominently, the intersection of love and violence.
This text has definitely been a challenge, both as a scholar and an artist. Misterioso-119 is more of a poetic text upon first glance, as there are no stage directions and no characters assigned to lines. In fact, in the notes of the English translator, the show can be performed with anywhere from 6-10 women. I worked over the summer to extract the characters from their wordy veils, a process which was not complete until a couple of weeks into rehearsals. 
As I took the English translation and returned some of the text to its original French, I was met with the challenge of merging the languages cohesively and coherently- how can two languages be spoken side by side in a way that dramaturgically makes sense? How will the language foreign to this demographic be understood? I believe that my linguistic structuring has accomplished both quests, creating at the same time a behind-the-door critique of American policy and mindset.
This production of Misterioso-119 being part of a research project, I welcome debate in a fashion additional to that of a typical theatrical critique. In a long-term way, I would love to grow upon this case study and transport its structural essence to a grander, international and political scale as a means of cross-cultural conflict-resolution."
Misterioso-119 opened this Wednesday, October 22 and will be open thru Sunday, October 26. Wednesday-Saturday at 8:00PM, Saturday and Sunday matinees at 2:00pm in the Henry Heymann Theatre!