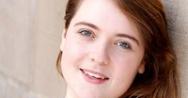 Due to the short time line for the show, my process for Stop Kiss has been a whirlwind. The script was so beautiful and I found that I was able to relate to both Callie and Sara as they dealt with very real life experiences that challenge them as people. Because the characters in Stop Kiss are so well developed the production in my mind did not call for a complicated set.
I wanted to develop an apartment for Callie that reflected who she was as a person.  My hope is for the audience to be able to see the apartment and immediately form ideas about Callie's identity before she even takes the stage. The show also calls for a great deal of rapid scene changes that shift from location to location.  I wanted to define the difference between the world inside of the apartment and the world outside of the apartment by contrasting light and dark. Everything outside of the apartment more or less exists in a black world, and almost all of the furniture is pulled from the apartment and transformed to define a new space.
I'm thrilled to be a part of this production, and I'm hoping we can bring this story to life and highlight the startling realities of hate crimes that are still happening in the U.S. today.