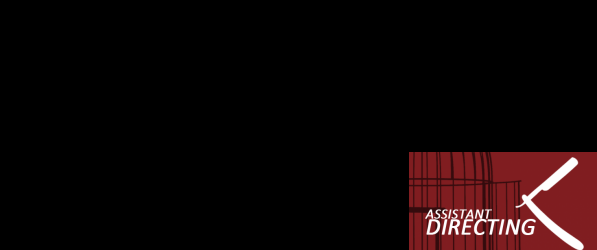 By Jordan Walsh

Here are the basics of what I do as one half of the Assistant Directing team for Sweeney Todd.  My biggest task is to be a sounding board for Lisa (the director), and to offer ideas and a new perspective for her.  Second, Dave (the other assistant) and I will be staging the first scene of Act II, "God That's Good."  For this task, we'll block the scene, give it a basic shape on stage, and give the actors a solid framework to play on. 

Dave and I will also be running the understudy rehearsals, so that the ensemble members can get a taste of the roles they will fill if, God forbid, one of our other actors gets hurt.  Other than that, we just do whatever it is that we can to make Lisa's life as the director of this mammoth show as easy as possible.  And sometimes I just get to observe.

Yesterday, for example, I watched Lisa stage "Kiss Me Parts I &II."  I had a little conversation with Mike and Ashley -- who play Anthony and Johanna, the leads in this scene -- beforehand. We talked about basic acting stuff (objectives, obstacles, etc.), but mostly I just observed Lisa working.  The scene didn't involve anything too difficult as far as the staging or interpretation went, but I had a great time watching Lisa, Mike, and Ashley working together.  It was one of those moments when all the stress and work of the theatre fell away, and I was able to just enjoy the pleasure of it.  

Every once in a while, I forget the pleasure of the craft.  There's no denying that theatre is hard work for everyone involved, and sometimes you can get so caught up in the hard work of producing good art.

I've been working hard trying to prepare myself to stage "God That's Good" (which is terrifying and exciting and will most likely be extremely challenging), trying to keep up with my 16 credit work load, working on the beginning of my BPhil thesis, and showing up to rehearsal five nights a week.  So it's fair to say that I've been pretty busy, and for a couple of days I forgot why I love doing this work.
 
Watching Lisa, Mike, and Ashley exploring the hilarious, goofy, and illogical love of Anthony and Johanna was really great for me.  I forgot about the insanely challenging task of putting up a show like Sweeney Todd, stopped thinking too much about how balanced the space was, stopped being too picky and judgmental about diction and intention, and so on, and I allowed myself to revel in the pleasure of being in that space with those people in the act of creation.  

I love those moments.
---
Jordan Matthew Walsh is a senior Theatre Arts/Fiction Double Major.  His Assistant Directing credits include The General of Hot Desire under Joanna Getting (Pitt). His Directing credits include The Zoo Story (Pitt), Krapp's Last Tape (Pitt) and King Lear (Oakland Shakespeare Co.).  He will be directing Cleansed by Sarah Kane next March at Pitt, and he will be assistant directing PICT's The Mask of Moriarty in December under Alan Stanford.