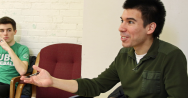 September/October Graduate Student Spotlight Profile:
José Pérez IV, graduate student in the MFA Performance Pedagogy program
In his article "Fight Theatre: Experiments in Site-Specific Fights and Audience-Combatants" published in the Spring 2015 issue of The Fight Master, José Pérez IV describes the type of theatre he hoped to create after finishing his BFA at New York University:
"I wanted to be in fight shows; not a Shakespeare play with a couple of scattered fights. I wanted to test my limits, to learn grueling combat phrases, be required to do strength and stamina training for a project…It seemed odd to me that so much time and training was put into stage combat for many actors and yet there wasn't any standard live performance forms that truly embraced and showcased that skill in the way that singing or dancing is showcased regularly" (7).  
Taking the initiative to create his own site-specific performance opportunities, Pérez started developing work in the form he calls "Fight Theatre," "original, unique theatre experiences that feature stage combat as their primary medium of performance" (6). Fight Theatre presents a range of creative and economic opportunities and challenges. As a form of site-specific performance, it can be cost-effective for theatre artists. Fight Theatre also questions how and where theatre is performed and plays with innovative modes of audience interaction.
Pérez wrote, directed, and fight choreographed the Fight Theatre performance, The Ride Along: An Immersive Theatre Adventure for Two. The show premiered at the Orlando International Fringe Festival in 2014. The Ride Along has two audience members at a time sit in the back of a car. Driving through Orlando, the audience members experience fights and songs (among other theatrical moments). With a successful sold-out run, The Ride Along electrified supposedly mundane sites with spirited combatant performances and reinvigorated audiences' imaginations and curiosities about the spaces they navigate.
As a second-year graduate student in the MFA Performance Pedagogy program in the Department of Theatre Arts, Pérez continues to explore physically based acting, fight choreography, and site-specific and immersive performance in his pedagogy, scholarship, and practice. As part of his MFA thesis project, this fall, he is teaching a Special Topics course entitled "The Athletic Actor." The course aims to guide students through a rigorous exploration of their physical instrument and articulate the ways in which an actor can approach their performance work primarily through the body. Throughout the semester, students are learning and experimenting with contact improv and endurance, instinct training, Capoeira and Hubad, and I AM ONE WHO. He has also fight choreographed and worked with students on various UPitt stages productions and organized and led a Contact Improvisation workshop.
Over the past year, Pérez has pursued his interest in Fight Theatre, movement, and site-specific immersive performance in Pittsburgh and beyond. He is working with two local artists to establish a monthly Contact Improv jam in Pittsburgh and participated in multiple movement intensives and master classes in New York City, at Michigan State University, and at the Kelly Strayhorn Dance Festival. This past summer, he was a Resident Artist at the Celebration Barn in Maine for two weeks where he created Welcome to the Table, a piece that can be performed around any dining room table. He also performed in the immersive/interactive show The Last Hurrah of Camp Maine, written and directed by Jeff Wirth at the Celebration Barn.
In the future, Pérez plans on writing a book about his experiences in experimental theatre and has an interest in performing combat choreography for video games. "I am also incredibly curious about the boundaries we set for ourselves," Pérez explains in his article, "I will say again, just because a project seems iffy at face value I do not believe it should be abandoned. Sometimes when I pitch a new idea I will hear from other theatre artists, 'This could be bad,' but I like to respectfully counter, 'This could be epic' (9).
To learn more about Pérez and his work, check out his article, Pérez IV, José. "Fight Theatre: Experiments in Site-Specific Fights and Audience-Combatants." The Fight Master. Spring 2015 Issue. safd.org  View his article here.
---
Congratulations to
Christiana Molldrem Harkulich for winning the American Theatre and Drama Society's Graduate Student Research Award.  The award supports research for her dissertation, "Standing Between Reservation and Nation: Indigenous Performance in North America after the End of the Indian Wars."
Claire Syler for successfully defending the prospectus for her dissertation, "Dramatic Discourse: Opportunities to Learn in an Introduction to Performance Course" in August.
Graduate Student News
A group of our MFA and PhD students, including Vicki Hoskins, Christiana Molldrem Harkulich, Le'Mil Eiland, Shelby Brewster, Julian Stetkevych, and Claire Syler, presented at the Association for Theatre in Higher Education conference in Montreal at the end of July. 
Shelby Brewster was elected Graduate Student Representative for the ATHE Theatre History Focus Group for 2015-16.
Maria Enriquez attended the Latino Theatre Commons' Carnaval in Chicago this summer as part of her dissertation research. She interviewed emerging Latino playwright, Emilio Rodriguez, who premiered his new play "Swimming While Drowning" at Carnaval. The interview will appear on HowlRound in October. She is currently serving on the editorial board for Etudes, an online journal for emerging scholars.
Christiana Molldrem Harkulich travelled to New York, Philadelphia, and Montreal for dissertation research this summer and presented on the panel "Appropriating Difference: Performing Blackness and Indigeneity in the Early US Republic" at the Society for Historians of the Early American Republic conference in North Carolina. She also devised a theatrical installation piece based on Erin Morgenstern's novel The Night Circus, which debuted in August at the Bunker Arts Projects International Performing Arts Festival in East Liberty
Vicki Hoskins used her Summer Research Fellowship to go to New York City to conduct research at the New York Public Library and attended musicals that will inform her upcoming dissertation.
Kristin O'Malley directed David Hare's The Bay at Nice as part of the UPitt Stages Lab season in October.
Julian Stetkevych directed Adam Bock's The Thugs in the Studio Theater as part of the UPitt Stages Lab season in October. He also directed a staged reading of the play 'Til Death Do Us Part by Sarah Scheid for the City Theatre Young Playwrights Festival on October 9th.
Claire Syler spent her summer conducting ethnographic research on the department's Intro to Performance class for her dissertation. Over Labor Day, she assisted with research for the community-based production of The Odyssey as part of the new Public Works program at New York City's Public Theatre. She also published a book review of Kurt A. Schreyer's Shakespeare's Medieval Craft: Remnants of the Mysteries on the London Stage in Theatre History Studies (2015).
Esther Terry organized and presented on a panel entitled "Appropriating Difference: Performing Blackness and Indigeneity in the Early US Republic" at the Society for Historians of the Early American Republic's annual meeting in North Carolina.
Diego Villada attended and presented a paper at the Transatlantic Dialogues on Cultural Heritage Conference in Liverpool, UK and fight choreographed Henry V at Chautauqua.
Upcoming Research, Productions, and Events
Maria Enriquez, Christiana Molldrem Harkulich, Vicki Hoskins, and Peter Wood will be presenting at the American Society for Theatre Research conference in Portland, OR in November.
Maria Enriquez will be interviewing Rose Cano, Artistic Director of Ese Theatro in
Seattle, and attending a rehearsal of "Elliot: Fugo de un Soldado." She will incorporate this research into an article she is writing on the translation of Quiara Alegría Hudes's play into Spanish for Seattle audiences.