Show Information
Written by:
Quiara Alegría Hudes
Directed by:
Ricardo Vila-Roger
Dates:
Wednesday, October 21, 2015

to

Saturday, October 31, 2015
Show Times:
Tues - Sat 8PM
Sun 2PM
Location:
Heymann Theatre
Buy Tickets
Winner of the 2012 Pulitzer Prize for Drama
A lonely adoptee in Japan, a donut-addicted IRS agent, haiku-spouting reclusive guru, and two blood cousins from North Philly's barrio. This motley crew gathers in an internet chatroom to share life's fragile successes and help weather its bleak realities. Through the tenuous connections of their long-distance bonds, these unlikely companions come together in a portrait of American urban life that is dazzling to witness.
To view PRODUCTION PHOTOS, please click on the poster below.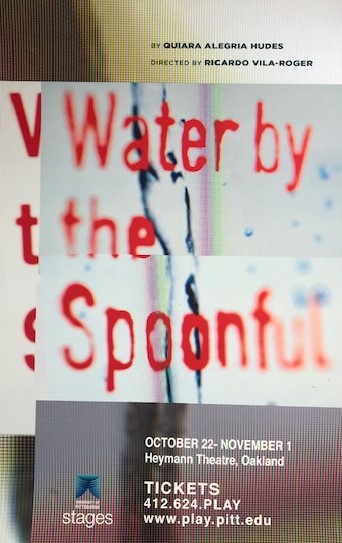 Water by the Spoonful Talkback Schedule
Date

Moderator

Guests

Saturday, October 24

Shelby Brewster

Ricardo Vila-Roger
Sol Crespo, and other actors

Thursday, October 29

Sofia Barboza

Dr. Armando Garcia (Hispanic Languages and Literature)
Ricardo Vila-Roger
Shelby Brewster
And other ctors

Sunday, November 1

Sofia Barboza

Dr. Michelle Reid-Vazquez (Africana Studies)
Tara Sherry Torres (President, Café con Leche)
Sheila I. Vélez Martínez (Law Professor)
Sponsored in part by the Center for Latin American Studies and the Year of the Humanities.