Rachel Nolen is a theatre arts major.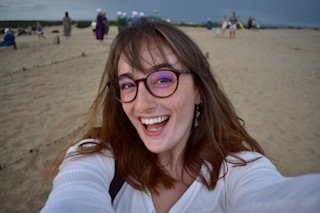 How do you see your theatre education contributing to your future goals?  
My theatre education has not only contributed towards my goal of being a stage manager post-graduation; but it has also taught me valuable life skills such as proper communication skills, time management, how to work with groups, and organization. My theatre education has also expanded my skills in sewing and lighting, which are useful in my day-to-day life as well as in the theatre. My time at Pitt has greatly expanded my talent and knowledge of stage management which has made me feel very secure in looking for work once I graduate. I have received mentoring, support, and countless opportunities to test and build my capabilities.  
What do you hope to do when you graduate? 
After graduation, I am looking to do some sort of internship or summer stock over the summer and then move back to Philadelphia in the fall to pursue a career in stage management. My goal is to achieve SM residency at a theatre near my hometown outside Philly.   

What do you enjoy doing outside of academics? 
Outside of my academic work, I really enjoy photography and caring for plants. I have been doing photography since middle school and I have been expanding my skills ever since. I mostly focus on landscape photography but every so often, when I'm able, I like to do portrait photography as well. I'm looking forward to grad season to take some great pictures of my fellow graduates. My addiction to plants has been in place ever since high school. It is so lovely to take care of them and they add so much happiness to my living space.  

Is there something you would like to share that you wish we asked you about? 
I would just like to share how much I have enjoyed my time with the theatre department. I have met most of my closest friends within our department and spent countless hours in the theatre with them working on shows, running USITT, and just having a fun time. I will forever be thankful to Pitt Stages for the education they have provided me, and the lifelong friends and mentors they have connected me with.