Victoria LaFave is a current PhD Candidate.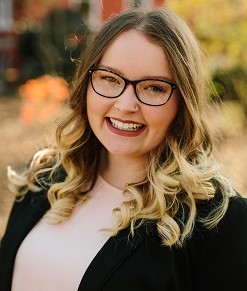 What are you studying at Pitt?
I am a third-year PhD student in the Theatre and Performance Studies program at Pitt. My research interests feel like a spattering of passion projects that I am just starting to map the constellation between.
I am invested in the relationship between queer archives and our affective, embodied memory of American history. My dissertation project investigates how queer archiving practices are intrinsically linked to embodiment through a call to perform. Through ethnographic and archival research, I examine a broad range of archival and tourist sites across the United States that contribute to the dynamic definition and imagination of Americana. In doing so, I demonstrate how queer relationships to archival feelings — especially the ways historical actors find themselves ambushed by a sense of the archive or build an archive to explain the feelings they cannot articulate — have continually been present within American culture. From sheet music archives to Titanic museum attractions to familial tattoo parlor/museums, the urge to archive does not ensure the materials stay stagnant. By begging or forcing us to experience the archive, I argue that these archival sites build a framework for understanding the relationship between embodied experiences and national memory. Throughout these tourist sites are moments where archives are shaped by — and utilized to affect — contemporary embodied experiences.

How has the PhD program helped you move towards your personal and professional goals?
The PhD program has given me ample opportunities to teach and expand my research. The opportunity to design classes like Global Stages has allowed me to be creative with my teaching and expand side research projects. My Global Stages course was on global punk performance, so I had the structured time to delve farther into musicology, counter-culture theory, and popular culture. Conversations with students in this class outlined the overlapping investment I was seeing in imagined fan communities and popular memory. Although my work may not directly continue down the punk imaginary, there are aspects of that course that seep into my approach to nineteenth and twentieth century performance history, largely through conversations around mobility, globalization, and queer aesthetics.
Alongside my research, I am interested in education and outreach in performing arts organizations. I see this sector of the performing arts world as the bridge that connects the public with arts and non-profit organizations through tangible and actionable programming. One key aspect of the PhD program that has shaped my professional goals is the Immersive Practice Credential (IPC). Through building my IPC I have been able to imagine what a career beyond academia may look like for me. My IPC is a blend between dramaturgy and education and community outreach which allows me to connect audience members and learners to artistic institutions. Many of the same questions and practices we use in the theatre space as dramaturgs help with setting goals and curating events for community education. Researching to provide context, asking provocative questions, and sparking conversations are similarly useful in building dimensional programming opportunities. The IPC requirement's emphasis on practical theatre experience was daunting at first, as I have limited experience in productions, but creating my own path has helped me develop a roadmap to move forward into education and community outreach.
Is there a research opportunity, production, internship, class, etc. that has been instrumental to your time at Pitt or in helping you form your post-graduation goals? If so, please tell us about the experience.
An experience that has been highly influential for my career plans was the opportunity I had to work with the Pittsburgh Ballet Theatre (PBT). While completing an internship in the Spring of 2020 I worked with the Education and Community Outreach department in preparation for their virtual student matinee productions. It was a challenging time for many performance-based artforms as organizations were transitioning to online performances. Additionally, I had never worked in a dance studio so there was a period of adjustment as I learned a new-to-me discipline. However, I was able to use my skills as a dramaturg and training as an educator to develop class activities and research for lesson plans and instructional aids for k-12 teachers across multiple disciplines. PBT's turn toward a virtual student matinee was a new adventure to prepare for that allowed me to use my virtual teaching experience for the broader community. This was a really fulfilling experience because it opened the (virtual) doors for students across the country to encounter a classical dance form. I like to imagine that the Educator Guide I created helped k-12 teachers feel empowered to discuss ballet as an embodied storytelling form with their students.
    
I continued to work with PBT through a Humanities Engage fellowship that summer which gave me the opportunity to implement my research on popular performance from the nineteenth and early twentieth centuries. With my mentors at PBT, Dr. Kati Gigler and Lisa Auel, I created a "Decolonizing Ballet" curriculum for PBT's dancers with the goal to foster more well-rounded students who think critically about the relationships between their classical ballet training, dance history, and social issues. This curriculum was framed around four main unit areas: ballet as a global dance; Black, Indigenous, and People of Color performers; jazz and tap influence; and nationality and character dances in classical ballets. By the conclusion of the summer, I developed seven sample lessons with instructional aids, movement activities, and guides for instructors to use in class. As a supplement to technique classes, this curriculum outlined the history of ballet, cultural connections, and common themes among other dance forms that students are often (explicitly or implicitly) taught are inferior to ballet.
Beyond just researching theatre and dance history, I found that I could share my knowledge with the next generation of performers in a way that generates conversation and new practices. For example, teaching lessons at on jazz and tap dance history at PBT yielded some new curiosities in students but also generated conversations around institutional expectations and accessibility with leadership. With a strong investment in PBT's improvement in diversity, equity, and inclusion, the Education department was a space for me to experiment with ways to broach uncomfortable conversations about the history of dance and theatre in the United States. Facilitating these conversations required different approaches, but it was exciting to translate the larger academic themes into generative questions for community members.
This experience demonstrated the ways that my work in archives and education could be used to work with the community. Not only were these lessons used to teach student dancers, but they are also being implemented in conversations with the leadership of PBT and the broader Pittsburgh community. Through this experience with PBT, I have begun to imagine the ways that my research and teaching experience in the collegiate classroom can be harnessed outside of the ivory tower. How might the conversations about representations of race, gender, and sexuality that we frequently discuss in graduate seminars be opened to a broader public? What might United States history education look like through the lens of theatre and dance?